Sweet Revenge
May 15, 2010
He burned with anger as he saw them together. Jealousy and rage overpowered him like tidal waves on the beach. He's given her everything she's ever wanted. He treated her like royalty becaused he loved her more than he loved himself. After everything he's done for her, this is how she repays him? This is how she shows how much she cares? Whatever she was thinking, he knew that he would not stand for this. As a promise to himself, he will make her pay for the pain she has given him.

Edgar thought he met the woman of his dreams. Lydia was everything he ever wanted in a wife. She was caring, thoughtful, compassionate; she was his personal angel. After their first date, he knew that he couldn't live without her. Eight months later, Edgar proposed and Lydia said yes.

However, as the weeks passed by and their wedding day got closer, he noticed changes in his beloved wife. She came home later than usual, claiming that she had extra work at the office. She would leave somewhat excited, but then come home saddened, as if she was receiving a toy, but then losing it moments later. One night, Edgar decided to surprise her at work. He arrived with champagne and chocolate cake.

"Excuse me, miss. I'm Edgar Turpin. I'm looking for Lydia Banks; she said she was working late today, so I came to bring her some snacks."

"Lydia Banks, sir?" The secretary asked. "I'm sorry, but she clocked out two hours ago."

"Are you sure? Huh, well it's okay. She's been working late for the past weeks anyways, so it's good she got to leave early."

The secretary looked bemused. "Sir, Lydia Banks always leaves at 6 o' clock. Since her position is a team effort, they've all gotten their work done early. She's never worked late since she's started working here." He knew her answer before he even asked.

"Thank you, Sheryl." He quietly left the building and entered his car.

The next day, after she left for work, Edgar packed his backpack, and followed her. The secretary was right, for she did get into her car around 6. He followed her to the other side of town to an apartment near the liquor store. It was an outdoor apartment where the windows surrounded the building. He went up the stairs, looked through the window, and was shocked. He was prepeared for this moment, of course. He saw it coming, but the reality of it surprised him. He took out his camera, and knew what he had to do.

On the day of their wedding, everything went perfect. Lydia looked beautiful in her gown, and Edgar looked extremely happy. He smiled when he said, "I Do" and kissed her passionatly. It was all according to plan. Then, it was time for Edgar to make his toast.

"First, I would like to thank all of you for coming to our wedding. I would especially like to thank Lydia's father for taking care of ALL of the wedding expenses. To show my appreciation, there is an envelope taped to the bottom of all your seats. I think the contents are self explanatory."

When the guests opened their envelopes, they found pictures of the bride and Steve, the best man, doing... some inappropriate things. Needless to say, Edgar filed for divorce the next day. The bill of the wedding totaled $123,000.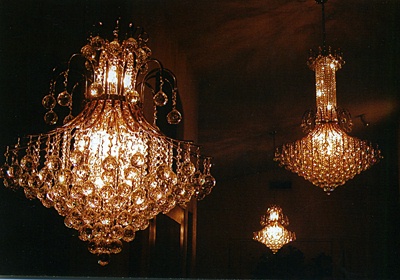 © JiaQi B., Paradise Valley, AZ