Observer
May 19, 2010
She sat down in the middle of the classroom, with her friends. Normally, just like any other girl would. After that, she put her books down on the floor, preparing for the test. Just like any other girl. She also looked around the class, intensely observing her surroundings, unlike any other girl. Then she faced forward again and "listened" to the teacher's directions while talking to her friends. Like any other girl would.

*
*
*


He sat down in the back corner of the classroom, dreading the test. His best friend was out with the cold, and it wasn't even winter yet. Sitting back and slouching in his chair, he grumbled to himself, trying to remember the math formulas needed for the test. When he heard the teacher's drone, he looked back up. After about five seconds, he gave up and began looking around the classroom. His eyes locked with another girl's eyes, but he didn't think she noticed. But he did. Her eyes were interestingly full of life, and they were extremely focused on… whatever she was focusing on. After that split second, he resumed looking around the classroom. Nothing else happened.

*
*
*


She finished the test in 27 minutes, since math was her best subject. She handed in the paper to the teacher, while wondering how the teacher could stand wearing those round glasses. Maybe she had ADHD, wondering about every little aspect of every little thing. She had read somewhere that ADHD kept you alive in battle, where even in the heat of fighting you could take in every single part of your surroundings. After she placed the paper on the desk, she turned around and made eye contact with a guy in the back corner. He had on a casual pair of worn-out looking jeans, maybe a little too perfectly worn out, and a normal tee-shirt. At least, she thought it was normal. His face was also… normal… but that was because it wasn't anything extremely unordinary. There were the few pimples, the disheveled hair, and the eyes. She believed that the eyes were the key to knowing about a person. His eyes reminded her of her own – a pure, indescribable brown shade with a soft black spot in the middle. His eyes also looked… lonely. After that half-second passed, he looked away. She wondered what he was thinking. After all, not everything was shown in the eyes.

*
*
*

His hands were sweating. He just noticed how sharp her eyes were, almost like cat's eyes were. Then right when he looked away, he thought he saw her eyes soften up. Either way, he was slightly uneasy. He looked down at his unfinished test, and then at the 11 minutes left until the period ended. Cursing, he went back to work. At the back of his mind, the girl with the intriguing eyes, dark blue jeans, comfortable gray hoodie, and the long, black hair remained.

*
*
*


She thought nothing of the eye contact. After all, it happened every day with various strangers, and none of the connections had real consequences.

*
*
*


He couldn't stop thinking of her, and she wasn't ignoring him either. When they passed in the hallways, her eyes were usually unfocused and distant. Taking advantage of that, he would observe them and see if he could tell anything about her. Sometimes she was tired, other times she was deep in thought. Beyond that… Well… He didn't know. But when she happened to see him, her eyes smiled.

*
*
*


She heard from her friends that this guy liked her. She vaguely recognized the name, and when her friends pointed him out, she recognized him from her math class. She saw him in the hallways and gave him a smile. She hoped it wasn't leading him on, but maybe if she set things straight it wouldn't turn into anything complicated. All she had to do was talk to him one day, but she never talked to him before. She loosely wondered why he would like her, when he probably didn't know anything about her. She thought about it, and he didn't seem like an observer. He wouldn't know what she was thinking. Then the lunch bell rang, and her thoughts disappeared.

*
*
*


He was beginning to think he was obsessed with her. Her eyes kept appearing in his dreams, and each time they were more beautiful than the last. He told his best friend, and apparently his friend told every friend of his. He didn't mind though; it was true. He liked her, simple as that. Why? She was different compared to the other girls. She actually thinks.

*
*
*


She received a text from him, and he introduced himself as "the boy who likes you" and then "John". She replied and introduced herself as "Katie". She wondered if she should set things straight as soon as she could, but then decided against it. It would be rude, and she didn't know anything about him personally as well. Maybe it was worth a shot. And what if she didn't like him in the end? Well, she hoped that he wouldn't think she was leading him on. That would be cruel.

*
*
*


He was ecstatic, and began to fall in love with her.

*
*
*


She began to develop a crush on another guy, somebody other than the guy who texts her almost daily.

*
*
*


He started seriously considering the idea of asking her out.

*
*
*


Her friends told her that he was planning to ask her out. But why? She was sure that she was becoming more distant to him through her messages.

*
*
*


He asked her to stay after school for a couple of minutes, completely ignoring all the winks from his friends. Her eyes portrayed an emotion he never saw before, but he took it as anticipation.

*
*
*


She was feeling anxious and edgy. She didn't like him, but he liked her. She hoped that she wasn't leading him along. She hoped that he wouldn't ask her out. She desperately wished that he was going to ask her about the homework, or maybe a question on the math test they took yesterday. Anything but asking her out... that was all she wished for at that moment.

*
*
*


He considered this to be the moment of truth. Either she would say yes, or she would say no. No, she had to say yes. He started getting clammy hands again as he saw the eyes that were calmly looking back at him. He thought that he looked like a fool. But he had to ask her out. So he did.

*
*
*


She started panicking, and told herself to calm down. Then, for the first time since she got pulled over, she observed. She saw his desperate plea in his clear eyes, and his overall nervous stature. His legs were tensed, his fists were clenched, and his teeth were rubbing against his lower lip. She realized that he was a guy, and she was probably leading him on. He perceived things differently than she did. No harm would come out, she didn't hate him. She just hoped her crush wouldn't take offense to it, that her crush would one day still be able to like her. She accepted his offer.

*
*
*



He was overjoyed.

*
*
*


She didn't tell anyone the truth, and became more withdrawn. She became quieter and observed people more, wondering if anybody ever had the same dilemma she did.

*
*
*


He looked at her, saw her eyes, and nearly did a double-take. Her eyes had no life in them. They were dull.

*
*
*


She was approached by him and told that it was perfectly alright if she didn't like him. She thought that it was too cruel though, because it was her own fault that she led him on like that.

*
*
*


He insisted that he would be fine without her. He lied. But her eyes with no life hurt his heart more than imagining a life without her.

*
*
*


She accepted his offer, once again.

*
*
*


He cried.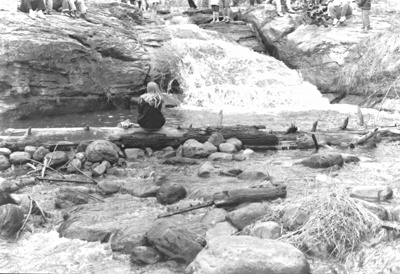 © Andrea E., Phoenix, AZ