The Meeting
May 30, 2010
The store was crowded. The heat was unbearable and he was sure the air conditioning was broke. Or maybe it was just the swarm of inconsiderate shoppers shoving past him, snatching fans and water bottles in a frenzy. He'd heard on the radio earlier that it was the hottest day on record. He'd not thought much about it until he saw the frantic crowd.
His stomach lurched. She was by the school supplies with an almost empty buggy, staring at her phone intensely. She looked so familiar, but her hair and her weight were different. She had bangs that brushed her eyelids and her frame was petite. Her sweaty shirt hung loosely from her hunched shoulders. His stomach lurched.
Suddenly she was sitting by him, heavier and with shorter hair. She was smiling and carrying on about something he didn't understand or really care to know. He was too caught up in his thoughts. She tickled his side and he grinned. She smiled up at him and leaned in to kiss her. Her lips were soft and sweet. They reminded him of a heart. Her cheek was warm and soft as well. Her eye lashes sat lightly on her cheeks. She was smiling.
No, she was frowning. She was grimacing as she looked at her phone by the almost empty cart by the school supplies. He looked down at the fan in his hand. He'd broken a sweat so profuse that there was a pool of perspiration collecting in the plastic ridges of the package. His short was wet. She was frowning deeply. His stomach lurched.
She looked up and around. She didn't see him but she knew he was looking. He could tell. Her tense shoulders relaxed a little. He sucked in a deep breath. His throat was stinging as his stomach lurched.
Suddenly she was smiling at a bouquet of flowers he'd just picked for her. He'd found the nicest vase in his house and sat them where she'd see them when she came in the kitchen. He was right. She loved them and she kept them for six months, even after they'd died because they had meant so much to her.
No, she was staring at him from across the crowd, phone in hand and mouth set in a straight line. Her eyes were pained and her shoulders were tense. She looked like an animal in the headlights of an oncoming train. She was obviously in shock. His throat hurt, his stomach lurched and his hands sweat faster.
She was holding his hand. Their hands fit well together because his were small and hers were smaller. They were like matching puzzle pieces. Her hands were soft and warm and comforting in his. He liked to rub her thumb with his and squeeze her hand tightly. It was sort of like a reassurance thing. He had her.
No, she was still staring at him from across the crowd, mouth set straight. He opened his mouth to call her name just as she opened hers but a small child grabbed hold of her legs and she snapped out of her daze. He watched her pick up the child, hold it tight and put her phone away. He looked down at the sweaty fan, and then looked up. She was gone. He looked back at the fan. If he didn't get home soon, the missus would melt.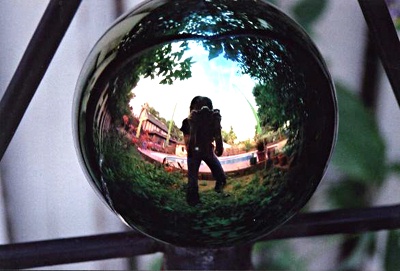 © Alexandra T., Chelsea, MI