Someone Like You
June 1, 2010
I'm on my way to second period on a cloudless day in June. There is only five more days left of school, and I couldn't be happier. I wanted no more than to exit the school for good. I wanted to hang out with my friend Harper and my boyfriend, Richard. Richard was the perfect boyfriend; the surfer type. Blond hair, tall, brown eyes, and totally cute. His personality was monotonous and his only talent was surfing in the Pacific, but how could you pass up a guy like Richard?
I was thrilled to get to second period. Today, we were dissecting a frog in life science. To most, this sounded completely gross, but this would enhance my medical skills, and help out in my dream career of pediatrics. Today, I was in a great mood.
"Hey," Harper Pendleton, my best friend since third grade, came up from behind me.
"Did you finish the algebra homework?" I asked.
"Yeah. Did you?"
"Yup. It was hard, though,"
As we approached Mrs. Kennedy's life science classroom, I spotted Richard among his usual troupe of friends. They were talking, but I went up to Richard anyways and gave him a hug. It wasn't until later I realized he didn't hug me back.
"Hey," I said. He returned the greeting with less enthusiasm. He seemed to serious.
"What's wrong?" I asked.
"Nothin'," he said. He wasn't looking me in the face. "Did you get caught for skipping class?"
"No. But we need to talk," he walked away from his friends, who had all become silent. I followed him away from the other guys into a corner of the hall.
"I think we need to break up. It's not you, it's me. I'm sorry," he said. He walked away. It took me a few moments to realize what had just happened, since he had been talking so fast. Then it hit me.
Oh my God.
I could try to explain what I had been feeling, but it wouldn't be worth it. Because words just could not translate properly. I felt empty. I walked around school, feeling like a victim. It wasn't really losing Richard that hurt the most. But what pained me was being now labeled the victim, the one the pity was aimed for. I didn't want pity. I wanted to be with Richard. I wasn't lowly with him. He was highly respected, and now I was pitied. Tomorrow, I would be forgotten. I would be forced to sit elsewhere than Richard's table at lunch. With who? The outcasts? The nerds? I cringed.
School passed so slow it was painful. I told Harper all the details. She was clearly angry. She evenly cussed him out but she also sympathized me, which was exactly what I didn't want. But when we reached fourth period, she had seemed to forget all about it.
Some friend.
I can't recall anything from all six periods, except the bus ride home (which was the highlight of my day because Richard wasn't a part of it). I usually sat with Harper, but she was too talkative, and I wasn't in the mood for talking. The embarrassing stares had really gotten to me, so I plopped down in what I had thought an empty seat. I was blind to everything except the pitying stares until I heard a "Hey!"
I turned around and saw I had thrown my backpack off and it had landed in the lap of an eleventh grader. He was a year older than me, and I knew this because he was recognizable. He was James Di Angelo, the tall and thin guy who never forgot his straight A award at the awards ceremonies. He played clarinet in the school's marching band, and I heard he was an amazing pianist. I wasn't surprised to see him listening to his iPod, which played "The Essential Billy Joel".
"I'm sorry," I wiped away tears from my face, which I had been doing all day. He didn't say anything about it at first like everyone else had.
"It's okay. You can sit here, I really don't care," he smiled. For the first time since this morning, I returned the friendly gesture. The bus moved on, passing homes and businesses. The tears fell silently, but after a few minutes, James said something.
"Do you want to talk about it?" and I spilled.
I guess that's all I really wanted. Just somebody to talk to, all along, even before Richard and all the other boyfriends who were just like Richard. I only wanted someone like James, somebody who didn't mind when I talked to them. I wanted someone to hold my hand through those tough times, give me a hug when I needed it. Someone who balanced me out. Someone like James. After those few words, we were inseparable. He turned out to be my last boyfriend, and the first guy I had ever loved.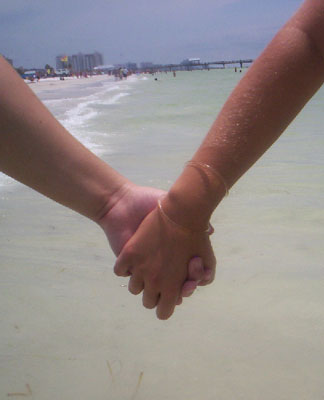 © Belinda H., Palm Harbor, FL