Something Good
June 16, 2010
I opened my eyes to the beginnings of sun seeping through the shear fabric of the tent. I slowly began to remember my circumstances and surroundings. My head was on his bare chest. His arm was wrapped around my shoulders and his hand had loosely fallen from my side where it had been holding me through most of the night and into the morning hours. I picked my head up from his chest and took in the disorder of the morning.

The blankets were askew, pulled tight over me and not covering him at all. I scooted the blankets out from under me and lightly pulled them across his semi-nakedness. He stirred ever so slightly and opened his eyes. I wondered if he had ever actually fallen asleep because I know I hadn't. He looked down at me and pulled me into him. We melted together for a while in the heat of the morning, calling back the memories of our night.

There came a time somewhere during that sunrise that thinking about it became obsolete. I decided maybe I should check and see if it had all just been a dream.

I turned back to him and his eyes were closed. I slid my way closer to his lips and kissed them.

"Well, good morning", he said.

He reached down and put his hand on my cheek and slid me closer, if that was possible. I wasn't sure if anyone else in the tent was awake yet, but I didn't much care, even if he did. I wrapped my leg around his body and pulled myself up. We kissed until the sun was warning us to stop. It's in the sun light that people can really see what's going on, when in the darkness all they have is their assumptions.

In the darkness of the night, I assumed I was someone special. When he pulled me close and I could smell the smoke on his hair from the campfire I thought I was the only one he would want to be this close with. I felt that I was the only one, the best one, and the most worthy of making him happy. I thought I was the best choice for him at that moment in time because everything was so close to crashing that if I didn't hold on I would just fall forever.

But how do you jump onto a nonexistent landing? How do you see through black smoke and sunglasses and ignorance? How do you know someone is f***ing you over, time after time, when they make you feel so complete?

It should be so easy to say no to the guy who saunters his way into your life at his leisure without thinking of you. It should be so easy to not deal with the s*** given off by a liar. Too bad his lies are so easy to believe and too bad you want them to be true. Maybe if he was a bad liar, or if he lied about things that didn't matter as much, maybe it wouldn't be as bad.

And it's not even the things he says. It's his eyes. When he looks at you, and you see him staring into your eyes, and you feel that intense connection like he wants nothing more than to be there with you at that very second. When he pulls you closer and squeezes you tight like you just cant be touching him enough. When he kisses you and his heart is beating a mile a second and he lies to you with those eyes. He dead stares you down and lies to your face. He tells your eyes there's nothing more than this moment. And then he leaves.

It's then when you realize that his eyes have lied to you. That all that time they were glazed over, not really seeing your face. All that time they were staring off into space, maybe thinking about someone else, not even recognizing your lips on his. Just hormone after hormone kicking in and you're just another girl. You thought you were close, thought you were closer than anyone else to him because of all that you've been through together. But maybe you don't know him as well as you thought you did because if you knew him, you would have noticed his lying eyes in that moment. You wouldn't have had to wait until he left to realize that you were just another night by the fire. Just another tent and another time and place. You could have been any girl under those covers. You just assumed you were something more. But now you know.

Now you know that you've been played.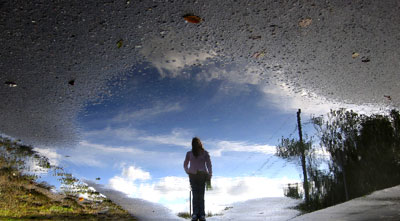 © Daniel H., Oak Bluffs, MA