Not Wanted Part 1
July 2, 2010
I stared out the car window. It was raining. Go figure, in London it always rains. My mom looked at my mad face she tried hard to look at the positive side of everything, "Living with your dad will be fun. I'm sure you two will have lots of fun, more than with me." I only looked at my hands, remembering my last 'fun' time living with my dad. It was my 6th birthday and well… he forgot, I ended up spending my birthday in my room alone, my dad is always too busy. I think that was part of the reason why my mom left him. "Mom, living with Dad is not much fun!" I was close to yelling at her. Mom did not have an answer to this, "Alice, it's better than living with me, so…" I could tell she was close to yelling too, "Just deal with it!" I saw her hands tightening her grip on the wheel. I glared at her, "You have no idea how terrible it is at Dad's house. You don't even know how hard it is living with you, because you're always so preoccupied with your boyfriends!" Mom just kept looking forward her grip tightening once again. Mom dated a lot of guys. All of them, talked to me like I was two years old. I never liked any of them.

I saw my dad standing in front of his large mansion, there was regretful look on his face. I knew he didn't want to take care of a kid, but a teenager, I knew he was petrified of the fact. "Alice! Hi!" Dad gave me an awkward hug, I didn't hug him back. Mom said goodbye and I got settled in my room. Dad left me in my room alone. The room was so dark and a bit frightening, like you see in horror movies. I just sat on my bed and cried, this was too similar to my 6th birthday, Dad would forget I was even here and go about his business.

I walked down the large stairs and looked about me. Dad's house was based off medieval houses, I can't say I appreciate his taste in houses. I wandered out to the garden thinking about my family. For a few years I lived with my dad, then my grandmother, then my mom (Grandma died, she cared for as much as my mom and dad do). Thinking about this made me start to cry again. "Excuse me?" I looked up to the speaker I brushed away my tears to see him better. "I heard you crying, are you alright?" I only nodded, I was dazed this guy looked so perfect. "You must be Mr. Henry's daughter." I snapped out of my daze to answer, "Yeah, he's my dad." He smiled an almost perfect smile, "My name's Rainwell, I work in the gardens." I tried to stifle a giggle, "I'm sorry Rainwell?" I was relieved to see he was laughing with me, "I was born on a rainy day," he explained, "So they saw I was born well and born on a rainy day. So that's how my name was created!" He smiled a beautiful smile. I smiled back, when I heard my father's voice yelling for me to come in. "I'm sorry I have to go now, see you tomorrow?" He nodded, "I work five days a week, ten hours a day." I waved goodbye, when I entered the large house, it didn't seem as dark as before, it seemed like I could things clearly or maybe it was the fact that I finally felt like someone cared for me.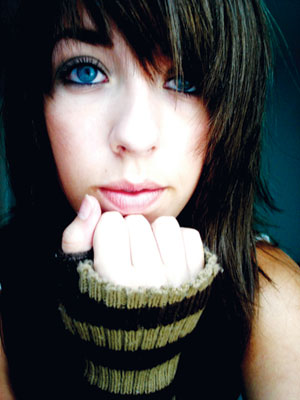 © Brit H., Peabody, MA