A Secret No More
July 28, 2010
He drummed his fingernails against the corner of his undersized school desk. Three… two… one- exactly six and a half minutes until sixth period lets out- six and a half minutes until he delivered. It was a schedule he had followed since sophomore year, every other Wednesday just after sixth period, he delivered the note. Never anything that could give him away- he either typed it up and avoided the use of his hand writing, or cut his desired words from newspapers and magazines, ransom-note style.

The message was always the same- the words always different. On Valentines Day last year he had given a small bag of conversation hearts, a cheesy card, and a yellow rose. She liked yellow. Halloween two years ago it was a chocolate eyeball and a small card saying, "You are my treat- here's one for you. No tricks." He'd given red and green gummy bears just before Christmas, Irish truffles around St. Patrick's Day. Today however, like most delivery days, a simple folded piece of loose leaf was all he intended- in now four minutes and sixteen seconds- to slip into her locker. He had decided to give a plain and simple note today, a wrinkled "You enchant me" was all that was uttered on the wide-ruled paper he clutched in his right hand.

One minute and forty-three seconds, also know as eternity, to go. One hundred and three seconds was officially his least favorite number… one hundred and two… One-oh-one…

He got a sort of kick out of it- he imagined so did she. He wondered how exactly it made her feel when she received his notes. Was it the one thing that gave her self-esteem? Or did she think of herself just as fondly as he thought of her? Almost every night, in the late evening hours, she was the sun, and his thoughts were the planets- endlessly revolving around her. He contemplated all possible routes out of the Friend Zone, always trying to navigate a sure-fire road to her heart. Constantly, he wondered if he was going too far. Were his little gifts and treats too bold? His notes too strongly worded? Most of all, were the newspaper and tabloid clippings creepy? Did she think she had a stalker? These things troubled him to no end. But he was one of her closest friends, if this were bothering her, she would tell him as a friend- right? He was one of her closest friends- right?
Who did she think dropped the notes, anyway- a jock, or a techie, perhaps, but certainly not him? He knew he was a secret, pondered or not, he wasn't sure, but only he knew that this Clark Kent lay under Superman's six-pack.

The seconds ticked away as his patience and level of attention to the lesson diminished. He became jittery as Mr. Jacobson announced that it was now time to pack up- only twenty-four seconds remained on the teasing clock. Finally- the second hand reached the twelve and the minute hand became perfectly aligned with the two. He held his breath and waited for the bell to set him free.

The thirty-two seconds Mr. Jacobson's clock was off by were agony- but in a way made the final bell even sweeter sounding. He wove his way through the crowed hallway; the destination was soon in sight.

Ten feet to go… three… two ... one… touchdown. The paper seamlessly slipped into her locker, making the tiniest sound as it landed on her thick beginning-of-spring hoodie. Not a moment later, though, his regulatory schedule was upset. She was exactly twenty-one seconds early- giving her a chance to see a hand dropping the note into he locker- and to whom the hand belonged.

If it was possible, his heart stopped and a smile jumped onto her face simultaneously. His gaze met hers, and at this moment he was still her lab partner, he was still her childhood friend, and he was still her next-door-neighbor.
But in that moment, and everyone that followed- the one thing he finally wasn't, was her secret admirer.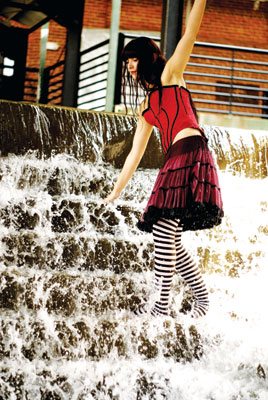 © Daniel H., Durham, NC