If my Heart could Burst chapt.5
August 24, 2010
"Well, Nicole...I don't think you feel the same way I do about you. I-I love you."

My mouth hung wide open. I couldn't believe what I just heard. My mouth was still open as the girl that called Dylan came over to us.
"Hey Dylan."- Mystery Girl
"Uh hey?"-Dyl
"It's me, Jillian"
"Ohh Jill! You moved back? Since when?" He sounded so normal. So, regular after he had said that. I decided to close my mouth and say hi to Jill, she didn't recognize me because before I had auburn brown hair, I dyed it darker.
"Jill, it's me Nicole. I haven't seen you in forever!"
"OMG NIKKI!!!!!"
"Yeah! In the flesh!" We both laughed.
"So when did you two get together?"
"Well, uhh-" Dylan started to say.
"About a couple minutes ago." I said as I winked towards Dylan. This was Dylan's chance, I just hoped he wouldn't screw it up like, Jason the perv did. He smiled and put his arms around my waist. I giggled, I knew we were being lovey-dovey in front of Jill. "Oh, sorry you must be a little uhh grossed out?" I laughed at what I just said
"Actually, not really. I'm dating someone."
"Really?" Dylan spoke up.
"Who?" I questioned.
"Well, his name starts with a R and ends with a N.
"Lemme guess, Ryan?" I asked. Hopefully not.
"Yeah actually, how'd ya know?"
"We met him today."Dylan said.
WHAT?!?!?! Ryan said that she was his COUSIN! maybe I should tell her...
"Ohh cool. Well I gotta go to Ryan's. See you later? Here's my new number. 555-6789."
"Ohh okay, bye." I said feeling a little guilty. I kissed her boyfriend!!!!
"Bye, Jill"-Dyl
"Bye lovebirds." She smiled and walked away.
"So when did we start going out?" Dylan said happily
"A couple minutes ago when we kissed for the second time." I blushed
He gave me a short chuckle. "So it only took two kisses to make you mine? Wish I knew that a long time ago."
"Yeah I guess so." I smiled. Me and Dylan were going out and Jill and Ryan were together. Hopefully it all works out.
"So what do you you wanna do, beautiful?"
"Aww thanks, and I don't know. It's 7:36... I have about an hour..."
"Wanna go watch a movie at my house?"
"That sounds great." I gave a big smile as we walked hand in hand down the blocks.
"So, Dyl..."
"Yeah?"
"How long have you- liked me?" It's been 5 years being together, when and why did he like me now? I haven't changed or anything...
Dylan stopped walking, still holding my hand.
"Nicole- err Cola, I've always loved you, since the first day we met in The Ice Box 5 years ago on this very day (turning 6). I never told you the reason why I broke up with my girlfriend at the time...It was because of you. As soon as I saw you, my heart lifted into a trance in which I concluded as love. That has been the reason I stuck beside you all this time. I love you Nicole Johnson."
Did he actually just say that? Is my mind playing tricks on me? He loved me, he dumped his 1st girlfriend for me, I always thought it was becauase she was too clingy...That's what he said to me before.
"Dylan, I don't know what to say." I managed to stutter in a some-what even tone.
"You don't have to say anything" He said sadly. His head hung low, like I'd only seen him do once. When his dad passed away at the age of 11. Dylan had been devastated, and depressed that was the only day I had seem him sad.
"I love you." I blurted out.
His brown eyes were almost twinkling like the north star when I said those 3 simple words. Those words meant so much to him. I wasn't so sure if I had any meaning towards them though. He picked up his head and smiled.
"I love you too." He said. This meant so much to him, I could tell in his eyes.
Before I had any more time to think his lips came onto mine softly and lovingly. I smiled knowing that I shouldn't hold back since he is my boyfriend now- Or at least I think he is. We were standing there -kissing- a block away from where we had first met and when I was in total distress. We kissed passionately still holding hands with my right and his left. We stopped, it was an enchanting kiss. He gave a small smile and said, "sorry."
"What are you apologizing about?"
"kissing you?"
"You don't have to apologize, we're together now...right?"
"Yeah...I'm sorry"
I giggled."What are you sorry for now?"
"For being sorry" He said and winked at me. He lifted me up into his arms, and started walking. It felt just like the movies where after a wedding or something the groom picks up the bride and kisses her, except we weren't kissing. My arms were around his neck and his were giving me support on the back of my legs, and my back. I looked deeply into his eyes, trying to feel what he was feeling, look through his eyes, but I couldn't.
"What are you staring at?" He asked me a little joke in his tone
"Nothing, just you." I replied embarassed since he noticed I was staring at him.
"I see...You know, you really are beautiful" He said staring into my eyes.
"Thanks, and you're pretty handsome yourself." I said partly joking and part telling the truth. He laughed.
"Well, we're here." He said as we approached his familiar light brown house.
"Yeah, we are." His house was like a castle, as was mine. We lived in a very, rich neighborhood you can say. My house was a very pale light blue and imaged almost the same as Dyl's. He walked with me still in his arms up the stairs & into the house.
"Are you ever going to let me down?" I asked him laughing.
"Maybe, maybe not. Do you want me to put you down?" He said while throwing me into the air, not very high but about an inch above his head. He was strong.
I laughed. "Maybe, maybe not."
He laughed."I wanna show you something."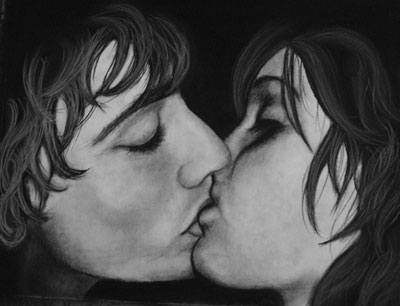 © Anna Y., St. Robert, MO