It Starts With The Eyes
August 24, 2010
I think it was his eyes. Yes, this was surely it. He had the biggest, brownest eyes in the whole world. They were so perfect. I could get lost in them all day. The only problem was, he sat BEHIND me in history class. It kind of sucked, the whole "I like you, but I'm too afraid to tell you" thing. It was so immature of me. But later, I found that it was all in vain…

Okay, so, you know those Hershey bars, the king sized ones with almonds? Yea, you know the ones. Well, they're my absolute favorite candy. We had been talking all throughout seventh grade about a relationship, but he kept saying he wasn't ready. I would ask him almost every day on AIM if he was or not. Did that make me seem desperate? No, I don't think so, just really excited. Anyway, on Valentines Day that year, I put a drawing of hearts and stuff in his locker and I felt really stupid afterwards. I mean, what if he didn't like it? Or worse, thought I used the wrong colors! And of course, all of my worrying was for nothing.

"Hey, Sierra, I really liked your drawing," he said to me outside the school. The second wave of students had been called to go out to the busses, but instead of leaving, he came to see me. How happy I was when he handed me that big Hershey chocolate bar with almonds! But this was no ordinary chocolate bar; it had a note wrapped all around its delicate deliciousness. "Don't open it until you get home, okay?" he instructed.

"Alright," I said, which was the only thing I said throughout our entire little exchange here. How dumb of me to say absolutely nothing!

"Happy Valentines Day." He walked away then, off to go home. And I got onto my bus.

The temptation to open his note was so large, I had to fight it off inside my head. I charged at it like a knight in a shining armor, my Sword of Resistance swinging in my hands. I couldn't very well disobey him. I wasn't supposed to open it until I got home. Finally, after a long battle with myself, the bus came to my stop. Scaring the two other boys getting off here, I ran down the street. Even though I was out of breath, I kept going. Past the neighbor's driveway, past the 3 cars in our driveway, past the kitchen, past the living room with my aunt in it, and into my room.

My book bag was quickly wrenched off my shoulders by my hands, and the Hershey chocolate bar, in all of its glorious, almond-studded being, would have to wait. Because the one thing I wanted was what was awaiting on the outside. Yes, the note written on lined 3-hole paper that I was convinced held the key to my happiness in this empty, barren existence of mine. Gently, I took the tape off of the note, unfolded the paper, and read what was inside:

Sierra,
I hope you had a great day. You are beautiful, talented, and I really like you. Would you like to go out sometime? Here's my number: (302) 265-9857.
Happy Valentines Day!
Matt

Finally! This was what I had been waiting for since I saw those very big, brown eyes in history class. Reading this note took me back to that day, walking in to find that the cutest, sweetest, most sensitive boy in all the world was sitting right behind me. Three rows back and fifth seat from the left. I immediately called him, and the word "yes" was the first thing out of my mouth. He just chuckled and we talked for about an hour. When it was time to get off the phone, I didn't want to go. I wanted to bask in his sunlight just a little while longer. But we would see each other soon. And I would see his big, brown eyes again tomorrow. Because after all, it starts with the eyes.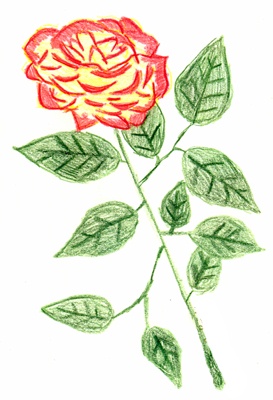 © Kelly A., Niscayuna, NY