If my Heart could Burst chapt.6
September 4, 2010
He laughed, "I wanna show you something."

"Okay, what is it?"
"You have to close your eyes"
"How about you close them for me?"
He smiled. "Sure thing, gorgeous"
He put me down and had his arms around my waist. He covered my eyes so I couldn't see and lead me up the stairs.
"So where are we going?" I asked confused. What did he have to show me that I already didn't see?
"Somewhere. It's a surprise"
"Aww come on tell me!" He led me down the hallway to a small room I had never been into because he always gave an excuse that it was a mess.
"Well, we're here" He said amused "Remember how I said it was a mess."
"Yeah, I remember." I said with his hand still covering my eyes.
"Well, do you believe me now?" He said as he uncovered my eyes.
I couldn't believe what I saw. There were millions of pictures from my childhood in boxes and hanging around the walls, some of them were me and others me and Dylan together.
"Wow, Dyl." I managed to say. I didn't know how to respond to this.
"I know it may seem kinda weird to have pics of you and what not, but this is where I used to come when you were on vacation and missed you like crazy. This is where I used to answer all my calls and texts from you, all our memories. I come into this room and have laughs for hours."
"I love you." I said. I had been wandering around the room looking at all our memories and laughed. "Do you remember this one?" I said pointing to a picture.
"Of course! How could I forget?" He laughed "That was when your mom made you dress up in a fluffy dress and put makeup all over you, then I started laughing and you put makeup all over me."
I laughed. "Yeah! Good times." He remembered everything, all of my memories and knew more about me than I did myself. I took out my phone, smiled and put it on camera. I walked towards Dylan making sure to fix my hair and began to kiss him. I took a picture and said, "How do you like our new memory?"
With a wide smile across he said, "I Love it."
I saved the picture and saw the time. CR*P IT WAS 9!
"I gotta go..."
"Aww...Stay, please "He gave me a puppy dog look.
"I can't, please if I could I would."
"Oh alright." He said sighing and giving up. He looked at me and it looked like he remembered something. He came up behind me, put his arms around my waist and whispered in my ear, "Come back tomorrow after school." It tickled and I replied turning my head, "Of course." We kissed and he walked me downstairs. "Do you want me to walk you home?" He asked like a gentleman. "No, I'm okay I'll be fine."
"If you insist...Call me when you get home."
"Kay, I really got to go now, bye babe."
"Bye beautiful" He said as I walked down the stairs of his front porch and walked fast home. Almost home, Ryan called out to me.
Ugh, Ryan. He kissed me and lied to me. He was a jerk.
"Hey, speedy" I guess that was my nickname now.
"Hey Ryan." I really didn't want to talk with him, but it was just his features that made him so darn irresistible.
"What are you doing out so late at night?"
"I could ask you same thing, and you know it's not that late..."
"True, well I was on my way to the uh- park." He hesitated.
"Why? To meet your girlfriend, perhaps?" I HAD to get this straight, but why did I care so much? I had Dylan now.
"I d-don't have a g-girlfriend." He stuttered.
"Yeah you do. It's Jillian. Don't lie to me Ryan."
"What are you talking about? Jill is my cousin. NOT my girlfriend!"
"B-b-but she told me-"
"She told you wrong. He said rather harshly.
"Whatever, I'm leaving" I turned around and started walking back to my house when he grabbed me from my wrist. I winced at the pain.
"Where are you going?"
"Home and that really HURT."
"I'm sorry, I'm just mad..." He kissed me and I didn't stop him.
WHAT AM I DOING?!?! I love Dylan not this JERK Ryan! I put my hands on his chest about to push him away from me, but he took his hands and held mine in it. I was pretty strong, so I broke his grip and pushed him.
"What was that for?"
"I have a boyfriend now."
He smiled and said, "Well, then why didn't you tell me in the first place?"
"Because... Never mind, I got to go."
He called after me, but I didn't answer him until he ran up to me.
"Look, I'm sorry...Didn't those roses count for anything? And the kiss?"
"You're the one who gave me those..."
"Yeah, who else did you think?"
"Uh no one. I really should go" I said as I pushed away from him, but he walked back up to me and put his arm across my back.
"Listen Ryan, I gotta go leave me alone!"
"What about the kiss Nicole? That didn't mean anything to you?"
"Yeah, it told me a lot" I said as I walked backwards.
"Nicole!-"
I banged myself hard into a pole.
"Da** it!" I said as I fell to the floor and blacked out. All I could hear was the sound of Ryan's footsteps running towards me.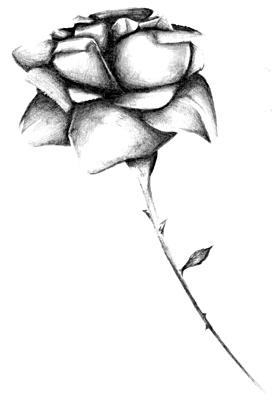 © Yisrawayl G., Philadelphia, PA