Collide part 2
September 8, 2010
I was walking down the hall and I tripped. My binders leaped from my hands and flew across the hall. My papers were scattered and I was a mess. I slowly gathered my belongings and then Brendan came strolling through the hallway. He ran over to me and picked up the last remaining papers on the ground.

"Thanks, Brendan."

"No problem, Angela."

He smiled and I smiled back. I walked towards the stairs, but as I put my foot on the first step, I turned back to him and he winked.
I couldn't stop smiling the entire day.

I sat down in a squeaky seat next to my best friend, Anna, and the drama club director, Mr. Mortenson, started to speak in his loud, projecting, voice. After 20 minutes, he had begun to talk about auditions for the spring musical and he described what was expected of us theatre kids. Suddenly, the doors to the theatre swung open with a loud crash and Brendan walked in. Pink rose up to his cheeks and he mumbled a slurred apology to Mr. Mortenson.
"Take your seat Brendan."
He glanced over at me and then joined his buddies, two rows in front of me.
An hour later, I rushed out of the theatre and I walked home. On my way out of school, I noticed Brendan standing by the cross-walk and on my way past him, I smiled.

When I got home, I went online and noticed Brendan was online also. We talked and before I knew it, we had been talking for two hours. I quickly said goodbye and logged off. Even though I was not conversing with him at the moment, the conversation I had with him still made me smile and giggle.

A week later, my friend Alison came up to me and whispered, "Brendan likes you."

"Oh my gosh! Really?"

"Yes, but don't be too excited okay. Please don't fall for him."

"What? What are you talking about? He is really cute, sweet, funny and smart. What's not to like about him? Oh…. MY… GODDD!!!!! He likes me??!?!?!?!?"

"Calm down, Ang. Take deep breaths and wake up. He has 'liked' our whole grade and asked out probably every single girl in our school. Don't think that he's nice. He is NOT. Don't think that he's cute. His cuteness disappears when you get to know him. Don't think that he is truthful. He is 100% NOT truthful. He liked me, asked me out and made me realize he is a jerk. He only asks out girls because he is desperate for a girlfriend. Not because he likes you."
"Wow. Okay. Maybe you're right, I have heard a lot of negative things about him. But on the other hand, maybe those are all lies. He probably is an amazing person, those are just stupid rumors."

"Think what you want. But I warned you."

The next day, I got a message online.

"Hey, it's Brendan. So you know how we were talking about the girl I liked yesterday? The girl I was telling you about and saying all those things about yesterday? That girl is someone I don't want to let her go I just want 2 be with her and I want her 2 give me a chance and if she did I would be happy if you're wondering who the girl is: the girl is...........................................you and I don't want 2 lose you. I like u a lot so yeah what I'm trying 2 say is I think you're gorgeous, beautiful, cute, pretty, smart, everything I've ever wanted in a girl. So what I'm trying 2 say is: Will you go out wit me?"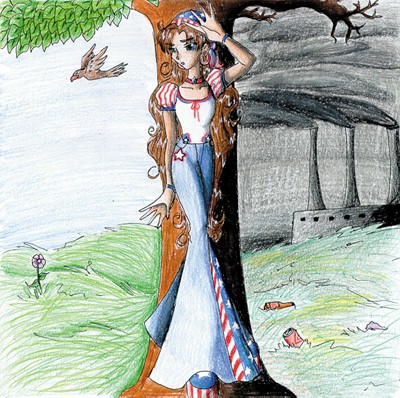 © Jayce H., Itasca, TX