Fix me part 2
September 11, 2010
I opened my eyes and I was wrapped in Tristan's warm embrace, my face pressed to his chest. I snuggled closer to him and a few moments later I felt his arms tense around me. He looked down at me and brushed the hair out of my face before asking. 'Are you feeling better?"

I nodded before saying "Mmhmm…" I closed my eyes and pressed myself into him before murmuring. "Just don't leave… please."

"I won't Jenna, I won't." he promised. Before I knew it I was thrown into dark and twisted nightmares about him, the one who violated me; and every nightmare left me screaming….


***************************************************

I opened my eyes to the sunlight shining brightly through an open window. I was still covered by soft sheets and a heavy comforter. I turned over reaching arm out for Tristan but he wasn't there. I heard the clanking of pots and pans coming from outside the bedroom and I smelled bacon which lured me from the bed. I walked into the kitchen area and saw Tristan cooking breakfast for his Mom, little sister and older brother, who were all fondly gathered around the table. "Good morning dear." said a woman that I assumed was Tristan's mother.

"Good morning." I said back attempting to sound enthusiastic but failing since my voice was rough and hoarse. I leaned against the wall and admired how close his family was with each other.

"All right Tristan I am going to take your Molly to daycare on my way to work, thank you for breakfast darling." Tristan's mother said while picking Molly up from her highchair, grabbing her suitcase, kissing Tristan and his brother goodbye and then heading out the door.

"I'm off to work too bro; don't set the house on fire. See you later." he said patting Tristan roughly on the shoulder, grabbing his car keys and walking out the door. Tristan looked back at me and smiled before pulling out a chair for me. I sat down and he pushed me in carefully. He sat down next to me and served breakfast. We ate the delicious food in silence until both of our plates were empty. Tristan took both of our plates to the sink and I got up with him. He grabbed my hand and turned it in both of his looking at my bandages. "We need to rewrap your wrists so they don't get infected. You can go sit over there." he said pointing to the couch. I walked over to the couch and sat down. Tristan sat across from me with the first aid kit in his hand. "Okay first hand." he told me. I placed my hand palm up in his. He carefully unwrapped my first wrist and then examined it slowly. He took out some gauze and began rewrapping it slowly before saying. "I uh, I mean you were screaming in your sleep last night, did you have a bad dream?" I winced at the pain in my wrist as Tristan sealed the bandage. "Sorry, I know it hurts…" he said sympathetically before giving me my hand back and grasping the other one. I watched for a little as he unwrapped my other wrist so gently and when I looked up at him I realized he was still waiting for my answer. "They were just, nightmares…" I said as I had flashbacks of the man grabbing me and tearing my dress…I cringed. Tristan took the old bandage and tossed it in the garbage can near him; he took my wrist again in both his hands and traced my scar lightly with his thumb. "I never thought the screaming would stop…." he said quietly without looking up at me. After looking at how deeply I had cut my wrist he started rewrapping it tenderly. He let go of my wrist when he was done and I pulled my arm in close to my chest hugging myself. "I didn't think the screaming would quiet down, but then it did, and it slowly went down to nothing but heavy breathing; that's when I knew it would be okay if I got up to make breakfast. And you slept alright for the rest of the morning, but I was still cautious, I checked up on you every once and a while. At times the screaming did stop but then it was replaced with you kicking or yelling in your sleep. How bad were your nightmares? And don't keep anything from me to ease my guilt or worry." he spoke to me softly.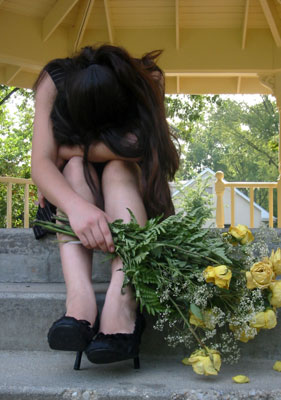 © Martha V., Morton Grove, IL