3 truths
December 20, 2010
I was deeply enveloped in his arms creating a comfort impossible to ever recreate. The heat of his arms kept me warm as we sat on his rusty old car in the presence of the sun saying its last goodbyes 'till next day to come. The city beneath us differed from the woodland cliff we sat upon. The lights of the city grew stronger as night came upon it. This large city acts as if it is the only piece of land on this earth, though it was merely just a small piece of the whole puzzle going about its business.

I felt his solid muscular figure under my stomach; his arms wrap my waist as his eyes were closed in a light gentle slumber. I took in his stunning beauty once again, I did this so often it was as if I were breathing, but still I went into a state of shock every time my eyes fell upon him. His scarlet blue eyes were hidden under his eyelids; brown wavy hair lay above his eyes cradling his face. Full soft lips, tan skin, the face of an angel, as if painted onto the perfect body. I couldn't believe someone so perfect could love someone as imperfect as me. I wasn't unbelievably beautiful, or gentle beyond understanding. I was just normal.

He slept peacefully, breathing deeply and calmly, his chest rising up and down; I listened intently to the rhythm of his heart trying to match mine. It became an impossible task though, my heart racing uncontrollably, keeping my urge to kiss him unbearable. I slowly leaned into his face and kissed his perfect lips.

I was about to come up for air from my short kiss, but couldn't. His lips were now awake and moving in response under mine. His hand was in my hair the other on the small of my back. He groaned in the back of his throat and smiled under my lips. We eventually broke for air our noses resting against each others.

"I thought you were sleeping. I didn't mean to wake you." I said as I still rested against his face.

"How can I sleep when you are kissing me?" he gasped.

I crawled back onto his chest and felt him rest his chin on my head. "I don't know, I thought you wouldn't notice if it was quick."

He gently started to run his hand up and down my arm, sending shivers of pleasure through my spine as he said," I will always know when you are kissing me. Even if I am sleeping I am not going to miss a free opportunity to kiss you." He looked down and smiled, "It is just too impossible to pass up."

We sat there quietly in our own thoughts until a question I always wondered escaped my mouth. "How do we know we truly love each other? I mean, we have been in so many relationships we thought were love but weren't. How do we know this one is different?" I asked, but regretted the words as they came out.


But he seemed to not have a problem with the question, and answered simply, "It is different because I have never felt so happy with anyone else, and I can feel this is different."

"Me too, but I want it to some how be proven."

"Easy; we will play one of my favorite games, 3 truths. I will ask you 3 questions, then you, and they all must be truthful 100%. Now you go first. Ask anything."

"Okay," I said still not seeing how this will prove anything, but I trusted him. "What is your favorite color?"

"Brown," he said simply.

"What is your favorite smell?"

"Lavender."

"Your favorite sound?"

"Your voice," he said, making me smile. "It's my turn now. What is your favorite color?"

"Um… bright blue," I said blushing probably giving away that that is the same as his eyes.

"What is your favorite smell?"

"Rain," I answered, remembering the smell of rain on him when it started pouring rain after one of our dates. He held me close to keep me warm and he smelled wonderful in rain. Then he kissed me and when I smell rain I think of him.

"Rain?" he asked.

"It was the smell of it on you w-when we first kissed," I said blushing bright red not meeting his eyes. "That was three questions."

"See?"

"See what?" I asked still embarrassed that all my answers were of him.


"All my answers were of you. Your eyes are brown, your hair smells like lavender, and your voice is well… a reminder that you are mine." Then to my shock he blushed too, looking into my eyes. "And if I am right all of yours were about me too."

He raised my chin to look in my eyes for an answer to prove he was correct and I nodded.

"Now you know that we do love each other."

"I guess I have always known." I said smirking in embarrassment. Suddenly, the sky went dark and rain started to pour. He scooped me off the truck and held me close, and I could smell it, the wonderful combination of rain and Lucas put together. I smiled happily as he drove me home and the sent lingered in the car.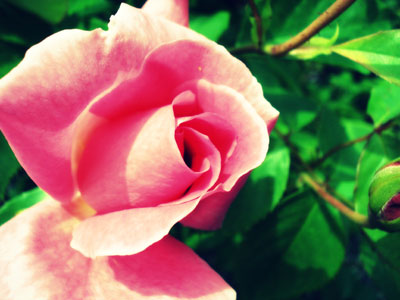 © Grace F., West Chester, PA