The Train
December 28, 2010
My mind is rocked in a car of a train, just a segment of the grand picture.

I wait quietly as the pulling of the wheels take me away to a better place, a place where I can think, be real, and wait.

Wait for you. Wait for reality. Waiting for both of those things to collide and make one beautiful crayon, so that I can color with it on my magic paper all that I want. I would make swirls and loops, sharp jags and circles with no beginnings and no ends…. I've always liked that idea. Just endless eternity, swallowing a huge chunk of white.

Reality awaits in the vision in front of me.

You're sitting in your typical position. Legs dangling casually over the edge of a bench. Head cocked sideways. Face nearly touches the girl you're speaking to. Eyes, flirting and masking any falsehood, scanning over her every feature, making her feel so special. So loved. So perfect. So wanted. So lovely.

It's your charm, you see. Those perfect, debonair features suffocate us girls, those drowning souls in the pool of your classic good looks and innocent manipulations. It completely captivates us, and for the most glorious moment, we forget ourselves.

The train again. My heart thumps to the rhythm of the drums in the underside of my feet. I close my eyes and feel my body being hurtled through air, but at the same time, so secure. It's what I think a kiss from you would feel like. Breathtaking, but with all the world passing by me at the same time, and me, locked away in a closed cabin with you….

Sitting there, so calmly, you excuse yourself for a moment from the captivating young lady you were just conversing with and make your wake to me. My heart skips a few steps up the escalation ladder, and you stuff my breath smoothly in your jacket pocket.

Greedy eyes chastely scour me with rough sponges. Do you even realize you do that to me? You're terrible. Awful. I want to spit in your eye. Sometimes, when I'm barely asleep, I'll dream of ridding you from my life forever.

Because I don't need you.

I don't want you.

I don't love you.

Lies. Lies. Lies. But I chant them through my mind anyway to keep my sanity as I look at you, somehow managing to keep eye contact without falling off the train, even though I have to grab on to the nearest railing.


My lips form a question: "Who's your friend?"

His lips—those red worms covering his teeth that suck the blood from my system—form an mate to my words: "Alexis."

I shuffle my feet back and forth across the concrete. "She's very pretty," I admit, even though the words come out like vomit, like all truth does. "Do you… like her… in a special way? Like are you two a couple or anything…?"

A chuckle bursts through his lips. I hate the way it makes the air pop, like I'm just a kernel in a bag in a microwave in a kitchen. So insignificant. So invaluable. "Yeah, I guess she is, isn't she?" He leans closer, so I can feel his breath brush paint against my cheeks. The color is scarlet. "You want to know a secret?"

I shake my head nervously.

"I don't really like her."

My body snaps. Tension unravels like ribbons out of my hair. It flows to the floor like a twirling dancer, slow and graceful and fascinating and perfect.

The train stops for a second. I can feel the gas and exhaust wheeze and puff its way out of the large machine. I lay down on the linoleum floor, running my fingers over the indentions quietly and softly, making sure not to touch the feet of the boy above me.
I'm enjoying stillness and the feeling of paint drying on my face.

His scarlet color.

"Oh" is all I can manage to say.

"Did you happen to have something to say to me?"

I lick my lips. Bite them. Press them like an envelope to my secrets. And repeat the process three more times before speaking.

I love you.

But I can't say that.

"No. I just have to go, and um… yeah."

I hop back on the train, storing my secrets in the car behind me.

A heavy load.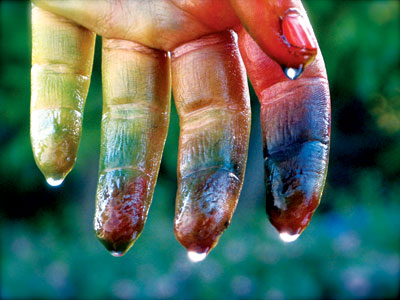 © Allison F., Menlo Park, CA