Scattered Thoughts
January 13, 2011
It's been a half an hour since I last talked to him. I miss him, I wish with all my heart he were here. But it doesn't happen. I'm still sitting alone in my room. Waiting. Waiting for the time when I can talk to him again. It's because I was so obsessed with talking to him that my parents put restrictions on the amount of time I can spend online chatting with him. I could always call him. My parents would like that better. Then they could stand outside my door, knowing what we're talking about. Unfortunately, I've always hated talking on the phone. Long awkward pauses don't work for me, and my parents making sure I'm not talking the way they fear I do is something I don't want them doing. So I wait some more. Wait until we can date without it being a secret. It will take a while. Three years, but I know him well. He won't leave me.

So until I can talk to him again, I try to find things to fill the time. I have a shirt that I need to color. I got it three months ago, but it needs to be colored for me to wear it. I don't like coloring, my fabric markers always dry out too quickly or I press too hard. But that's probably just me, ruining everything I touch.
So I watch the show he got me hooked on. The one where the main character is just like him. Always trying to protect the people he loves, always wanting to get stronger so he can do it. So confident in himself, so easy to love. Strong, but sensitive and loving. That's my guy. Describes him almost perfectly.
Then there's the other character. One time he told me I was like her. That's when I realized it. He probably saw some of the better things about her to compare me to. I saw it differently; she's one of the weakest in the story, not always brave, naive. Those are just some of the things that make me like her. But there's also many differences. She's good with kids and cheering people up, and even though she's one of the weakest in the story, she's so much stronger than me, in every way. She can take risks, she gets stronger throughout the story, and she has faith in herself. But I guess he didn't see any of those qualities when he told me I was like her.
I decide watching the show right now is too depressing, so I write. I've always loved writing, even been told I'm good at it. I don't know if I would let him see my stories. It's not that I don't think they're good, some are and some aren't. The thing is I reveal too much of myself, things about me no one knows. Most people are surprised at my writing. It doesn't sound like me unless maybe I'm writing about myself. Most of the time, the main character has the personality I wish I had. They have control over themselves, they're confident and strong. They're good and smart and can make people laugh. They have a lot of friends, good and bad. They're good with kids and dogs and old people and are the type of people that volunteer at orphanages and change lives and don't waste their time sitting alone in their room.
Sometimes I cry when I write. Just because I wish so badly, I was like the person I'm writing about. I suppose I'm exactly like them on the inside, but I'm not the type to take any risks, kind of the opposite of them. But I keep writing anyway because it's my only way of sorting out my thoughts, my emotions, everything about me really. It's almost like I find myself over and over again when I write.
Most of the time when I write it's about him. The one special person that means the world to me. If I wanted to I could probably write a book about him, a novel even. Maybe people would love it. I think they might. Our story is pretty amazing in my eyes; two people that meet for the first time at a small church in a movie theater, they don't know each other until the shy girl starts going to youth group. He talks to her, makes her feel like a friend, like she belongs somewhere for once. She falls in love with him at a New Year's party, goes on a trip with him over the weekend, falls even harder, even though she's sure he doesn't even see her. Then, she discovers his true love and is heartbroken, his true love stops loving him and he realizes his love for the shy girl. I could end it with "...and they live happily ever after." It would help if I knew the ending of the story though.
I've never told anyone this, but sometimes I imagine him outside my window, throwing pebbles. I can even completely convince myself. Oh, I think, I better look out so he knows I realize he's there, I don't want him to wake my parents. Then nothing's there, I've disappointed myself once again. After, I think, what am I doing, why would he come throws rocks at my window, it's so stupid, I'm so cliche. But then the next night I'll imagine the exact same thing. What if we could run away together, there would be no one telling me to get offline after two hours, no one telling me I couldn't kiss him. It would just be me and him and our love forever.

But look at me, I'm dreaming crazy again. I always do that, but lately something weird has been happening. They've been coming true.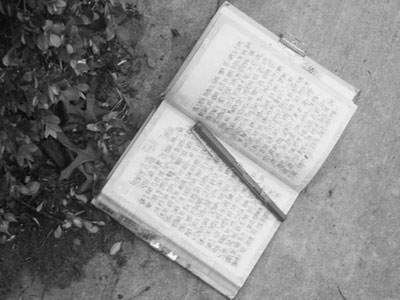 © Quinn B., Lubbock, TX