Standing Up
February 25, 2011
Romantic Chapter 1: Standing UP I'm sure you've heard about a million fairy tales. From Red Riding Hood to The Three Little Pigs, but have you ever heard of Aria Shivawn? I doubt it. Her story is left untold because people think of her as somebody who doesn't set good examples, but Aria Shivawn stands up for what she believes in, this is her story.
Aria was sitting on the porch of her mother's farmhouse watching the sunset and thinking about Darius. Darius was her boyfriend. Her mother didn't approve of him because he was black, so Aria never told her mother. Aria was a college student at Juilliard, she was very talented. She actually had an important piano performance coming up that week and Darius was going to attend. Darius was in the army so they never got to see each other very much, but Darius was getting discharged and she was very excited. He would be home in time to catch her performance, which made her even more nervous.
"Aria, come here." Her mother shouted from inside the house. Aria jumped at her mother's orders and ran into the house like her life depended on it. Aria's mother was also going to be attending her performance and it would be the perfect time for Aria to introduce Darius to her mother. Aria had been sucking up to her mother so that when she found out about Darius, she would be in a good mood.
"Yes?" She asked when she finally found her mother in the kitchen cooking supper.
"Miriam called, and she was telling me about her son. You know he is single." She explained. Aria had gone on about fifty pity dates that her mother had set up for her, hoping that she would butt out, but she never does.
"No Mother, I'm not going out with everybody-poops-now Benny. You can't pay me enough to do that. Besides I am interested in somebody else." Talking to her mother was difficult. It went in one ear and out the other. Aria was sick of it. Darius would be home in two days! Aria couldn't wait. She had fell head over heals in love with him the moment she laid eyes on him. Here is how it happened.
Aria was a freshman in collage. On her first day of school she bumped into another freshman. Her name was Bianca. They got along great. They ended up being roommates. Aria drives back to her mother's farmhouse on the weekends though. Aria never knew that Bianca had such an amazing brother. Darius was sweet, kind, caring and everything she had ever wanted. The only problem was that he was black. That wasn't a problem for her, just her family.
"Don't you lie to me, I see right through you." Her mother laughed. "You're going on this date and you're going to like it. He is a nice boy." Mom stopped what she was doing and turned to face me. "Understand?" She asked.
"No. You cannot keep telling me what to do. I'm nineteen. You don't own me. So stop acting like it. I have a boyfriend and I love him. I don't care what you think." I screamed. She gasped. Aria ran out of the house and hopped into her car. She drove two hours back to college.
Aria stormed into her dorm room, not even noticing Bianca. She threw her stuff on the floor and flung herself onto her bed. She put her pillow over her head and screamed as loud as she could. Bianca rushed over to her.
"You shouldn't visit your mom anymore." Aria laughed. She was right, my mom wouldn't except my boyfriend, or my choices, so she doesn't need to see me.
"I cannot wait till Darius is home." That was something Bianca and Aria had in common. They both loved Darius.
"Yea me too, but you should get some sleep." Aria agreed and it didn't take long until she was snoring and Bianca was smacking her with a pillow.
"What?" Aria asked.
"It's ten o'clock .Get up." She explained. Aria hopped out of bed. Her performance was at eleven. So, she had to hurry. Aria threw on some clothes grabbed her purse and headed for the concert hall. She was about half way there when she ran into something that felt like a brick wall.
"Ouch!" She moaned. She looked up to see Darius. She had run right into his arms. "Darius," she was excited. Aria had been knocked onto her butt by her big muscular boy friend. "I thought you weren't coming until after the show or during the show." He grabbed her and pulled her into his arms.
"I am never leaving you again." He shouted with joy. They were interrupted by the sound of somebody clearing their throat. Darius let Aria down and turned around.
"Aria Shivawn get your butt over here right now. We are leaving." Aria was shocked. She hesitated, but walked over to her mother.
"No, I am staying. You didn't want me to come to Juilliard. You don't want me to date Darius, and you want me home so I can take care of your stupid farm. You want me to date guys that I don't like, and you want me to be somebody that I'm not. If you can't accept me for whom I am, then you don't deserve to be around me." She shouted.
"I didn't know you felt that way, Aria, I'm sorry. I don't mind you dating Darius. I have known something has been going on with you two for awhile now. I think that he has been a good influence on you. I wish you would have came and told me instead of lying about it. I honestly am glad that you are standing up for your beliefs." Aria smiled.
"Okay, well, I'm going to go get ready for my performance."
She paused. "Darius sit with my mother. Mother, be nice." Her mother giggled. Aria kissed Darius and climbed up the staircase behind the stage in the concert hall. Aria made it to hair and make-up with plenty of time left. Aria started to cry. They weren't tears of sorrow, but tears of joy. She could finally enjoy her relationship and share it with her mother.
The lesson of this story is to never be afraid to stand up for your beliefs. Lying can be a powerful thing, you might think that it is best, but always tell the truth. If you really believe it, then embrace it, stand up for it and be honest. Does that make sense?

The End!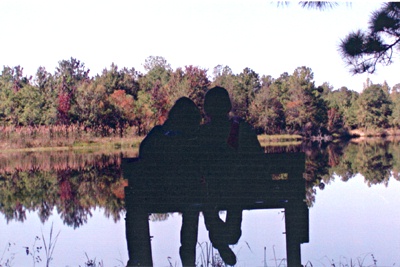 © Heather J., Slidell, LA