Ode to Hopeless Romantics
April 2, 2011
I set down the latest romance novel I had been reading. Four hundred and twenty-nine pages worth of events that would never happen in real life, especially not to me. Why was it that girls always fall for that kind of stuff? Romantic comedies are the worst. No way in real life does a bride call off her wedding in the middle of the ceremony just because her best guy friend comes parading in on a white horse, professing his love for her at the last minute. No, that just doesn't happen. As much as girls wish it did, it doesn't.
But why doesn't it? That is the real question. Why do people go to such great lengths to write novels or scripts about love affairs that just don't exist? Why would they be so cruel as to make all that stuff up and portray it as if it could actually happen? I don't know the answer. I'm not even sure if i want to know. All i know is that "love" always seems more romantic and magical either in print or on the silver screen.
Maybe authors and playwrites create this kind of stuff because they know that it doesn't happen in real life. Maybe they are putting all of their wildest fantasies onto paper so that hopless romantics alike around the globe can experience what real life, sadly enough, does not provide. Yeah, that makes sense.
And with that, i proceed to pick up another romance novel I have conveniently near by. If I am not able to experience any of this myself, then why not pretend?
Read on, hopless romantics, read on.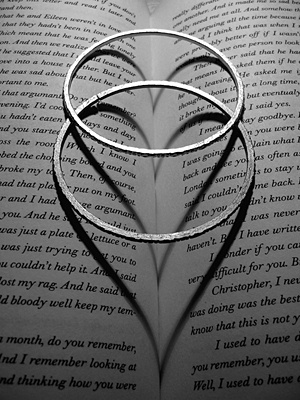 © Julia K., Old Tappan, NJ