My first love
April 8, 2011
We walked along the trodden path. Me in my old wellies and fluffy hat, him as gorgeous as ever. I had never fully got how he could go out with someone like me, i wasn't super skinny, i didn't have blonde hair and bright blue eyes, In fact quite the opposite, i had dark hair and green eyes. Plus i had a deep Scottish accent which got me a lot trouble in the very american school where noone could understand me and always though i was insulting them, (they also asked why i didn't have ginger hair, and had i ever seen a wild haggis, that made me laugh hysterically.)
We continued on our endless walk when i tripped on a loose stone and went tumbling down a hill. He came down after me and kept on asking whether i was ok. I stared at him for a second before bursting into unstoppable laughter. I just sat on the damp ground surrronded by leaves, i didn't even know what was funny, but eventually we were both laughing. He sat next to me and pulled a stray twig out of my hair. We stared into each others eyes. I swear i could see deep into his soul, a soul made of the purest gold. He slowly lowered his head to mine and pressed his freezing lips to mine, i shivered. He went to pull away but i held him there unwilling to let him go. His lips were soft and gentle but in the same way, powerful and strong. He pushed me back onto the leaves and kissed me even harder, i was getting cold now so i pushed my hands against him and stood up, for once, he blushed, He was so sweet.
"Sorry he muttered, got abit carried away."he muttered.
I laughed again and he held his hand out to mine and we continued on what would turn out to be the last time i ever saw him.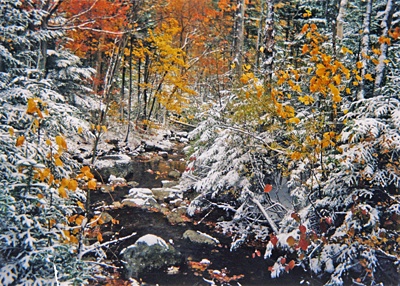 © Eric E., Lexington, MA