A Scott Summer
April 23, 2011
My toes plunge into the burning hot sand. I wave to my best friends standing by the water, the foamy ocean waves playfully licking their feet. As I run across the sand, I close my eyes and let the wind pull my hair in all directions and let it brush across my fluttering eyelashes.

Suddenly my foot smashes into a plastic pail. One moment I'm running to my friends, the next I'm sitting in the warm sand which now embroiders my hair and my clothes. Thoroughly embarrassed, I try to hide my flaming red cheeks beneath my strawberry-blonde hair.

I squint up to see a boy with longish brown hair and bluish grey eyes smiling down at me. I feel my blood flooding my cheeks and he asks, "Need some help?"

UGH. HE MUST THINK I'M AN IDIOT. I MEAN, I AM SUCH A KLUTZ! AND NOW THERE'S SAND IN MY HAIR AND SPLATTERED ACROSS MY SHORTS! I LOOK LIKE A CLOWN… SOMEONE LIKE HIM WOULD NEVER FALL FOR A GIRL LIKE ME.


He reaches his tanned hand towards me and I gently grasp it. He pulls me up with ease and for a second I get lost in the depth of his eyes. He lets my hand go and sweetly says, "See ya round." He starts to turn away but then he goes, "Oh wait, I never caught your name.."

"Emily, my name is Emily."

"Pleased to meet you, Emily. I'm Scott."


Her lips curve into a smile as I introduce myself. Suddenly, her eyes drift away from mine and to the top of my head.
SH*T. IS THERE SOMETHING IN MY HAIR?!?!

"Umm.. Scott?"

"Ye-ah?"

"I think you have some seaweed in your hair."

My fingers frantically rush up to my hair and I feel the flush approach my cheeks. I find a piece of slimy seaweed twisted in my hair. I remove the kelp from my mangy mess and I drop it onto the sand.


WOW. SHE MUST THINK I'M AN IDIOT. I MEAN, COME ON, I HAD SEAWEED IN MY HAIR. HAS IT ALWAYS BEEN THERE? WHY CAN'T I BE SMOOTH… LIKE ALL THOSE OTHER GUYS. SHE'LL NEVER FALL FOR A GUY LIKE ME.
He looks so cute when he blushes! The way his eyes meet mine… It's like there is this invisible connection between us.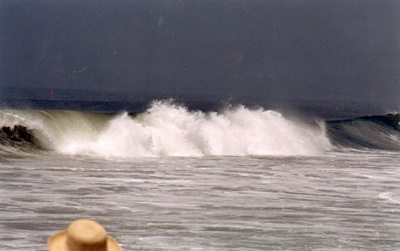 © Laurence S., Los Angeles, CA