Reality
April 28, 2011
My boyfriend is perfect. He is handsome, polite, kind, considerate, and loves me. He brings me flowers, surprises me with moonlit dinners and knows I'm a sucker for walks on the beach. He always knows the right thing to say when I'm feeling down. The way he embraces me in his arms makes me feel like I'm floating. We started dating after he kissed me. He kissed me in the rain, out on the street. If anyone wants to look at us, take a look. We are not ashamed of our love. We get married months afterwards. Our wedding is beautiful and he can't keep his eyes off me. I love him.

Reality is an uncomfortable thing, the thing that pulls me out of my comfortable daydreams. In the so-called real world George and I have only spoken twice. But I know we are in love. I have butterflies every time I see him. I feel so nervous I can barely speak. And when he looks at me, I know he has those feelings too. I know it because I've seen it. He cares for me, loves me.

So what if he has a girlfriend? He's only with her to make her feel good about herself. He loves me though, not her. And even when I feel jealous, I think of our kiss in the rain and it's alright again. My sister calls me crazy. I say I'm crazy in love. She says he's not even that handsome. I say she's wrong. She says George doesn't know me. I say he knows me better then anyone.

In 'reality' we aren't a couple, not even friends, but I don't think about that, because as I lay on my bed listening to one love song after another, I know mister perfect is mine, and I'm his. He will do anything for me. He is willing to give his life for me. And I will love him forever.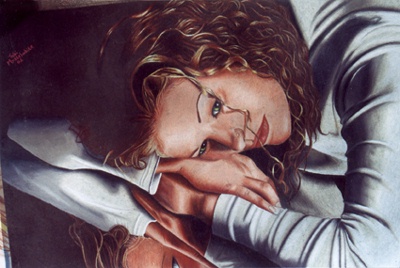 © Tabitha M., Kannapolis, NC