Unexpected Tragedy
May 27, 2011
Darcy was excited. Excited for the moment that would change her life. The perfect guy that would turn her everyday into a good day. She was excited for Mark. Mark was was twenty-one, and was stationed in Kuwait. She was eighteen and lived in North Carolina.

It was summer of 2011 and Mark and Darcy were really heating up. They talked every day, they would web chat every night, and they were both happy. Darcy was in love with the though of love. The whole subject was fascinating to her, all she ever dreamed of was to marry Mark. There was one problem, Mark was 6,770 miles away. How would they get married, online?

One thing Darcy didn't know was that Mark was planing something, but he had doubts. It was a late one evening, and Darcy was in her dorm room studying for a English final that was coming up when there was a knock on the door.

"I got it," Riley said. Riley was Darcy's roommate. "Don't stop studying! You are going to ace this test." Riley smiled. Darcy couldn't focus, all she could do was think about Mark. Riley opened the door. "Can I help you?" Riley asked.

"Uhm, I hope so. Is there a Darcy Black here?" A strange voice asked. Darcy shot a glance toward the door. To her surprise, it was Mark. Darcy nearly fell out of her chair, just trying to get to him fast enough. He slung his bag on the ground and caught her as she ran into his arms. "Uh, Darcy." He whispered out of joy.

That night, they spent ever second together. They went out for dinner, watched movies, cuddled on the couch, and took a stroll through the park. Darcy was in heaven when Mark was on leave. But soon he would have to go back to Kuwait, and still she had no ring. It was eating her alive, she loved him, and he loved her, so what was the problem. She was about to give up.

The night before Mark was to leave for Kuwait, Darcy was home alone, crying her eyes out until her phone rang. "Hello?" She answered.

"Hey beautiful, It's me. I got a new number." Mark said. "Can you meet me at Foxy's?" He asked. Darcy agreed to meet him at Foxy's Pizza Den at six o'clock. She was excited, this was where she met Mark, maybe he was going to propose? She put on her slippers and threw on her jacket. She didn't care what she looked like.

On the way down to the lobby of her apartment complex she called a cab, who just happened to be waiting outside for her. She finally made it to Foxy's, but there was no sign of Mark. She looked around anxiously. "Over here," Mark called. Darcy turned around to see Mark siting on a black metal bench by the bus stop sign.

"What's the rush?" She asked. "Why did I have to be down here?" He pulled a brown teddy bear with 'Darcy' written on the belly out of his jacket and handed it to her as she walked over to him. "I love you, Darcy." He smiled.

"Are you being serious?" She asked expecting a ring. "A teddy bear?" He stared at her confused and angry. "I don't want a bear! I want a ring." She threw the bear down, and ran back to her cab leaving Mark speechless.

Darcy went home, and to school the next day. Still angry at Mark, she failed her exam. She hadn't even said goodbye to him before he had left for Kuwait. After her English class she decided just to go back to her apartment. She didn't feel like attending more classes.

"Phone." Riley said handing her the telephone as she walked through the door.

"Hello? This is Darcy. May I ask who is speaking?" She kindly asked.

"Hello, Darcy. I hate to be the one to tell you this, but this is General Rex. Uhm, Mark's plane went down. We did what we could do, but there were no survivors." He sounded upset. Darcy dropped the phone. He was gone, how could she had been that selfish? Riley had done picked up the phone from the floor and was trying to figure out what was wrong. Darcy walked over to her bed,there was the little brown bear from the bus stop. Mark had left it. She picked it up, wiping her tears, and hugged it tightly.

"Will you marry me?" A machine voice asked coming from the bear. Darcy searched the bear and found a single ten karat black diamond ring. She gasped, as a tear fell from her face she whispered, "Yes."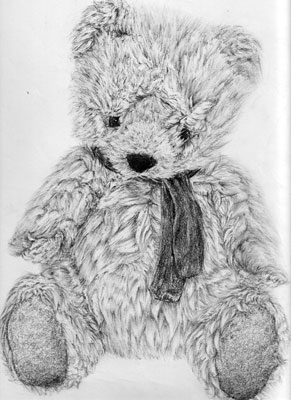 © Sarah F., Birmingham, United Kingdom