According to Plan
August 5, 2011
The stars twinkled brighter than a street on Christmas Eve, illuminating the sky and launching us into a void of beauty. It was a stretch of a never-ending dark blue blanket so far up into the heavens, yet so close to us. I smiled at the picture perfect moment.
Ian laid beside me, so close, that I could hear his soft, slow breathing. His body was only centimeters from slightly touching mine, and I felt like I could stay with him forever, as long as this moment never passed.
His eyes moved from my face to the sky whenever he'd interrupt the silence to softy talk to me. He looked up at a constellation that I had pointed out to him and smiled. "Beautiful…"
I nodded and agreed. "It really is."
Ian smiled at me and took my hand. It fit in his strong, but soft hand like a perfect puzzle and it sent an electric current through my whole body. "I wasn't talking about the stars."
I met his perfect dark brown eyes and couldn't even try to hide the giddy smile about to appear on my face. He thought I was beautiful!!!!
Ian moved closer to me on the grass, removing whatever tiny sliver of space that was between us. His face came closer to mine and his eyes closed. So did mine.
A moment of pure silence for my perfect first kiss with my perfect first boyfriend.
When I opened my eyes, I stared into the black dot eyes on my Hello Kitty pillow. Back to reality.
I smiled and rolled off my bed, ready for my date with Ian, where everything would just have to go perfectly. Tonight would be the night – I could just feel it.
~~~~~
Ian and I sat close together in the comfort of his cushiony lawn chairs in the center of his huge backyard. We didn't sink our backs into the tall grasses like how I fantasized, but it would have to do.
The stars still shimmered amazingly above us as we chatted about things like school and work that zoomed through my mind unimportantly. We weren't exactly basking in the silence and beauty of nature like I imagined, but it would have to do.
Ian smiled at me and took my hand and I smiled as the warmth filled it and moved through my whole body. Perfect and according to plan.
"The stars are beautiful," he said softly.
Huh. That was not how it was supposed to be. I still smiled pleasantly and agreed with him, acting as if nothing was wrong. Why ruin a potentially great moment for myself by worrying about him straying from my fantasy a little bit.
"Like you," he added, squeezing my hand with that adorable smile.
I smiled bigger and felt my face warm up slightly. So he didn't say it cleverly like planned, but it would have to do.
Now all that was left…
"Kelsey?"
Talking now was not according to schedule, but it would have to do.
I looked into Ian's gorgeous brown eyes as they looked into mine. "Yeah?"
"I really like you."
I tried not to beam like a dork at his sudden statement that proved a magnificent addition to the plan. I tucked some stray auburn locks past my ear slowly. "I really like you too."
Ian smiled and looked back up at the stars. For the longest time, we stayed staring at the sky. After some time, it seemed to be mocking me. Ian seemed to paying them more attention than me.
So not a part of the plan.
I sighed lowly to myself. It was twenty minutes to my curfew and it didn't look like Ian was planning on performing his job that contributed to my perfectly thought out fantasy.
I turned to him. "Hey, Ian, I think I – "
I was cut off by his lips gently touching mine suddenly. Our lips stayed togeter perfectly for a few seconds, and when Ian pulled away, he smiled shyly and looked away.
I looked away too, and smiled to myself. Not exactly how I saw it, but it would have to do.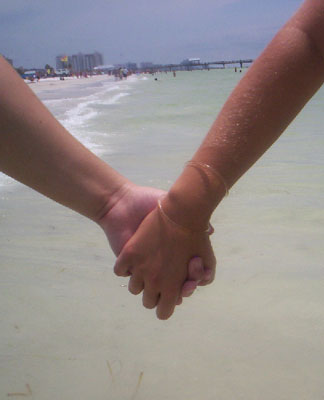 © Belinda H., Palm Harbor, FL