The End of Forever
August 14, 2011
He's staring at me from across the cafeteria, looking concerned. I do everything I can from letting my gaze stray in his direction, but it hurts to do so. I wonder if anyone notices the look on my face, or cares. I wonder if HE cares.

As soon as my eyes find his, he turns away.

No!

I find myself wanting his eyes again. I know that it's wrong; I shouldn't want anything about him. But I do. My heart leaps to my throat, and I resist the urge to scream, "I love you! Take me back!"
As if that would fix anything. It was only a few days ago when we were holding hands, feeling whole. I remember lying on the couch next to him, talking about our future.

"Four kids," I had said. "Two boys, two girls."

"That's too much. How will we handle four little devils clawing and screaming at each other?" He smiled and kissed me on the nose.

"They won't be like that! They'll be perfect, because they'll be ours."

He didn't reply, but simply ran his fingers through my dark brunette hair. I breathed him in happily.

"I love you," I whispered. He kissed me again.

"I love you, too. Forever."

I guess that had just been another lie.
If we were forever, why am I sitting alone at this lunch table, staring at the back of his head?

If we were forever, why did I throw his photograph against the wall?

If we were forever, why did he kiss her?

I know he's looking at me again. I can feel it. But this time, I won't look back. There will be no more looking back. Something new blossoms inside of me, and my insides freeze up. It almost hurts to feel this way, so detatched from you, but I'm going to have to get used to it.

I guess forever was shorter than I expected.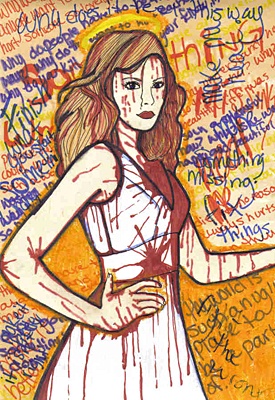 © Sara D., Aiken, SC