That Summer
August 23, 2011
"Hey, where've you been?" Vinny was walking up to me now, while I sat there, letting the waves wash over my toes.

"Here."

"You okay?" He said as he gave me a hand at getting to my feet.

"Yeah." I paused. "Just thinking," I finished, looking out at the seemingly endless ocean.

"About ... let me guess ... your brother."

I didn't answer as he nodded slowly.


My older brother, Nate, had called me the day before. I was hoping he was drunk, or high.

While he talked, his words were slurred so I couldn't understand some of what he was yelling through the receiver.

He was saying something. Something about our parents, I'm pretty sure.

"Bella, you f***in' b****!" Nate had screamed as soon as I answered with a hello.

I was quiet, waiting for him to go on before I would yell right back at him.

"Mom and Dad are p*ssed. Do you know what I had to go through? They think I'm in contact with you after all these years of me not speaking to you. They think I'm the reason why you left. They think I convinced you, they're baby, to leave them all alone, with only each other."

The only reason why this was the first time Nate had spoken to me in years was because of one stupid thing that happened back when I was a Sophomore. He had already graduated the year before, and I was trying to convince him to go to college, you know, to make something out of the rest of his life. Well, he thought I was insulting him. Pretty much saying that I thought he was a loser and that if he didn't go to college that he was just going to be a freak with no life whatsoever. Thats not what I meant. I think some where in him he knew what I was really saying and he knew he was just making up a bunch of bullsh*t just to start trouble. Thats all he ever was; a drama queen.

Nate paused, waiting for a response. When I choked on my own breath, he continued. "Talk to them, Bella! Set them straight so I don't have to deal with all this sh*t."

When I thought he was about to hang up, he didn't. "And don't think this one phone call means I'm speaking to you again ... because I'm not. I won't, ever. I promise you that."

I didn't realize it until I tried getting in a few words before he hung up on me, but I was crying. I never did well with angry conversations that had a lot of yelling, especially if that yelling was meant for me, and with Nate ... it was always meant for me. And in every way possible, I wanted to squish what had happened between us, just so he could be my brother again.

"I love you," I managed to whisper before he cut me off.

I heard him laugh on the other end, then the line went dead.


I would have never imagined that there could possibly be pain this servere over one simple phone call, no matter how vicious the call was. But, now that I've lived it, I believe it.


"It's alright. You'll be okay." Vinny assured me as we headed up the shore.

"No! I won't be okay!" I cried. "I want my brother back! I want him back!" Then I fell to the ground, drowning in my own sobs.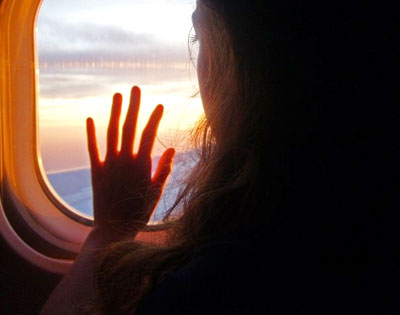 © Megan C., Nashville, TN