Breyson, Is His Name
August 21, 2011
It was hard to imagine my life without Taylor. She was like a big sister. Or a mother. She was always telling you what foods you should or shouldn't eat, depending on which ones were healthier, and she was always saying that if I slept more and partied less, I would feel better. But the one thing that absolutely everyone loved about Taylor was that she gave the best advice in any situation, whether you asked for it or not.



I had met Taylor the first week in September when we were both moving in. She got to the dorm first, of course. I was always being late. One of the reasons why it seemed like all my professors hated me. I learned a lot from her. Like that to pass Cosmetology school, you sometimes actually have to study. But, I wasn't the only one learning things. I taught Taylor that sometimes its okay to be wild, to actually act like a college kid. I taught Taylor a very important rule of college. You have to party.


"Breeeeeeysonnnn!" I yelled from the dorm window when I saw him.


Breyson was my best friend. He and I met at my first college party, the first night I moved in. I had dragged my roommate, and my soon to be good friend, Taylor, that I had known for not even four hours, with me. An hour into the party I learned that she had never drank a beer or any alcohol before, in her life. That probably should have been something she could've mentioned on our way there. Anyway, Breyson saw me struggling to get her outside so he decided to be a nice guy and help out. He ended up carrying her back to the dorm for me. She was passed out in his arms the whole way, and thats when I knew that for my first night at college, I would be taking care of her and cleaning up her puke.

After Breyson layed her down in her bed, I walked him out to thank him, and as I did, I learned that he went to a college just down the road from ours. He was studying to be an artist.

After that night, Taylor was done partying for a while even though I assured her that your first hangover is always the worst. I still went partying almost every night. And almost every night Breyson was at all the parties. We would usually see each other and meet outside for some air. We ended up exchanging cell numbers and surprisingly he texted me a lot more than I thought he would.

Taylor sometimes thought we were secretly dating. Only because every Saturday and Sunday we would meet for coffee at the local coffee shop halfway in between both our colleges. It was convinent for both of us and it gave us a chance to talk.

Sometimes it was hard to talk at parties, one of us was always drunk. When it was him, I would reach into his back pocket and steal his keys. Then after the party I would drag him back to my dorm and let him sleep with me in my bed. Taylor had a lot to say about that. But, as much as I explained that we don't do anything at all, ever, and that he was just sh*t-faced, she still believed that we had a thing for each other.

Taylor was right about one thing; Brey and I were closer than most opposite sex friends. We hugged ... a lot, when we saw each other we kissed on the cheek, we held hands, we went to movies together, both in theater and drive- in's, which at the drive- in's, I would usually fall asleep with my head on his shoulder. I usually wouldn't tell this to Taylor but there was one time where I invited her and she witnessed it, and to this day, she still will never let me live it down.

I sometimes wish that Taylor would just get over Breyson and I. She's weird about us. I feel like it's all she ever talks about with me. And when she was dating her ex- boyfriend, Aiden, they weren't close at all. They dated for three months and Brey and I were closer in two weeks than they were through they're whole relationship. I try to ignore anything she says about Breyson, but I don't know how much more I can take of it.


"Breeeeeeysonnnn!" I repeated, louder this time.

This time he looked up and spotted my head hanging out of the window. I waved a hand at him and motioned for him to come up, which I think was where he was headed anyway, why else would he be on campus?


By the time he reached my room it was about ten minutes later. He obviously ran because when he reached me he was out of breath.

"Oh, my God. Thank God you're here." I hugged him.

"You okay?"

"No, I'm not."

"Alright. Just calm down." He flopped down on my queen sized bed.

Normally a dorm room has single beds, but that was way too small for me, especially when Breyson had to stay over, so I ordered a bigger one. Sure, it is less space in the room but we do have one of the bigger dorms on campus, so its not that bad, and so worth it.

"What's the problem?"

I sighed and layed down beside him. "You're here for the whole summer, right?"

It's not like Breyson needed to go visit family or anything. All his relatives live around the New York City area and he saw them more than he wanted to.

"Unfortunately." He curled up under the blankets. "It's freezing in here."

"Yeah, I like it cold. So, you would go somewhere with me for a couple months? Like on a vacation?"

Breyson smiled. "You know it."

"Wonderful," I said as I headed to my closest.


An hour later I met Breyson at my car. And then we were off, on our way to North Carolina. My parents have a beach house in Outer Banks, so I called my dad to make sure it was okay that we went, and of course it was. I was daddy's little girl. Usually, since I was the only one thing that made daddy smile, he wouldn't let me stay in a four story beach house alone with a boy. But, the thing was that Breyson wasn't just some guy I picked up. Both my parents have met him and are both very fond of him. It's one of Brey's many talents; he's good with parents.


Sixteen hours later, we arrived. The drive wasn't bad at all. Breyson would have to disagree, though, since he wasn't the one who slept most of the way there. He was just the one that got yelled at for going over too many bumps when someone was trying to touch up her makeup.

"You look fine," he said as I was fixing my eyeliner.

"Shut up. You don't know anything. I look horrible. You know I look discusting without any makeup on, so don't look at me until I'm done."

Breyson sighed, not looking at me so he wouldn't get screamed at, yet again.



Once we got inside, I gave Breyson the tour. I showed him my room and his room, and all of the five bathrooms. The living room, and the dining room, of which I've never used both. I've never used the kitchen either, I'd be lucky if I knew where the refridgerator was located. Anytime we stayed at the house, we only really showered and slept in it, we were always out doing something.

Afterwards, we both went to our own rooms and unpacked.

Twenty minutes later, Breyson was already at my door.

"You're quick," I said as I set some lotions on my vanity.

"No. I just didn't bring the weight an elephants worth in cosmetics."

I sarcastically giggled, then slipped off my shoes. "Wanna go for a walk?"

"I guess so."

When I got to where Breyson was standing he put an arm around my neck and all I heard was Taylor singing in my head: Alli and Brey, sittin' in a tree. K, I, S, S, I, N, G.

Shut up, Taylor. Shut up.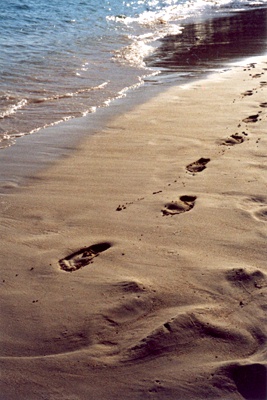 © Ashley B., Potomac, MD