Ghost Kiss
October 7, 2011
A Ghost kiss upon my lips something that made my heart throb! Was it a dream? Was it real? His breath lingered on my nape, his sweet scent tingling tempting my nose...His lips, those soft full lips upon mine. His arms, his warm strong arms holding me tight: so tight in fact that if he were to let go I might fall apart. Those beautiful hazel grey eyes allowing any unknown soul to see his inner depth if they were to look at him, and there it came that smile that illustrious smile that showed a confidence an arrogance that could choke a horse. Katie... His name was Katie. The breeze swept over us its cool fingers leaving goose bumps over my skin, and a shiver clambered up my spine. The moonlight was bleeding down upon us, its white light giving those beautiful eyes a new shade of bluish white as we walked among a black and white picture that was our world. The trees around us were waving and shutter whispering to tonight's chilly summer breeze. Katie's face round dimpled with a slight color pigment stared down at me; I felt my body melt into his like rushing water which often happened when he looked at me. This had to have been a dream this scene was only something from the movies right?! Full lips whispered in my ear,
"You're cold" amusement dancing in his tone. I shook my head with a smile,
"By no means. "I had this urge that arose in my belly something of the wild kind and animalistic tendency! The idea made my jitter in anticipation! I unwrapped myself from his arms taking his hands and interlacing them through themselves and placing them on his chest.
"What are you doing, you silly girl?" The Look of bemusement but also intrigue took over his eyes. A wicked smile curled its way to my lips. Into to the wind I ran, its fingers whipping my hair to and fro I could feel such a freedom when I ran and more power knowing there was a predator at my heels! The blood pumping, sloshing, and slurring through my veins! My lungs gasping for much need nourishment, my muscles clenching and releasing the power! I felt like the wind its self because we ran together neither of us holds the other back or fighting for direction or speed! You sense everything when you were free! The click of the crickets, song the wind sings in the grass, just the gentle song of the night in general, the dirt soft mush between my toes a muddy trace thanks to the night's dew. More and more I thought this had to have been a dream or I was dancing with a ghost because not once had I heard his footfall, a breath leave his lips, nor had I even sensed his ominous presence chasing close behind! Twas a gazelle and a lion, matching Speed with elegance versus strength and deadly power. Katie's mighty arms would end my freedom to run and would cage me like a wee Lil' bird. But only if he caught me! It was the changing winds that gave him away his alluring scent traveling deep into my lungs telling me he was close, as I turned to look behind me...He was closer then I had ever know merely three steps behind me! It seemed to be in slow motion his arms extending grabbing mine, whirling me elegantly to spin for a moment air born, an all I could do was let out a squeal of content! The predator had caught its prey! Those muscles wrapped me up tight keeping me from even the winds bitter nail as we walked along in this summer night. His breath was as heavy as mine, labored from inhaling cold summer air. I was breathless not only from my run, but at his lovely face that flushed with a beautiful crimson curling up his cheeks ,those eyes illuminating in pleasure an arrogance.
"Caught you," Katie's voice was husky deep in my ear, His shaggy Chestnut hair tickling my neck.
"Barely," was all I could manage to gasp out. A light chuckle rumbled from his chest, he looked down at me his eyes darting from my lips to my eyes. I begged for it silently spreading my lips apart. Gasping for breath because he was stealing it from my lungs, the blood was now pounding harder and harder a slushy feeling entered into my stomach and all the way up into my head. Gently he brushed his lips against mine alighting a fire within my soul boiling the already rushing blood in my veins. In the still of the moment I could feel his heart beat, his blood pulsing gently calmly through his veins. A cloud drifted over the moon casting it over him and I, all I could see in the darkness was that smile, then boom! I was rubber in his arms; the taste of him was something amazing something... Indescribable no words could match it the potency! His poisonous kiss was deadly because like him the intoxication was captivating.



When I awoke that morning with a smile of a fool, a humming bird renting out my chest cavity, I wanted to see him! I wanted to feel his werewolf heat under my fingers again, but to my surprise I was alone. The window was wide open allowing the bright noon sun to peer and burn into the hollows of my room. I remembered running but there was no dirt under my feet! I gently touched my lips that seemed sore from having been kissed a great deal of times, but was no dirt... There were no foot prints... There was not proof! Was it a dream? Or was it real? Surely it was a dream life did no consist of that kind of feeling! Only in movies! But what if it does? Had I experienced it last night, with him?
I think it over as i stare out a decripid window,looking at iron bars, concrete painted with a numbing "calming" blueas they called it.
But I know weather real or dream twas a Ghost Kiss upon my lips.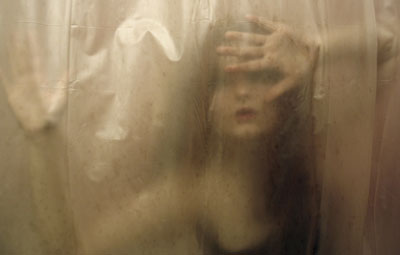 © Emilie E.