I love you so Chp. 1: New home, New boy
December 22, 2011
Summary: This girl is new at her neighborhood and she meet this boy that tells her that he loves her the first time he sees her. She doesn't answer though because she is not sure of what to say and she starts to like him but knows she'll have to hide the relationship from her dad because he is racist and will hurt her if he finds out.



"We're here!" my dad said parking the Mitsubishi Outlander in the driveway of a two story brick house. I leaned forward; glaring through the front windshield at the place we now call a home. "It's kind of cool." I said. My mom smiled at me with a small laugh. We got out seeing the u-Haul come up the road into the driveway. I got out the car, and dad let me go in first to explore a bit before I started to help unpack our things. The first thing I did was head upstairs to claim my room. I chose the one with him lovely window seat and a medium sized walk-in closet, I walked up to the window and straight across the street there was a boy looking at me. I gave a small smile and a quick wave. I got a wave back than he tripped and fell. "Wonderful. First thing to see had to be a boy my dad would not like." I said casually to myself.


"Hey Katie! Look who's came to same hello!" I heard my dad say from the back of the moving truck. Great. It's the boy that tripped,waved,smiled stared and came into my privacy. "Hi. Nice to meet you" I said greeting him and his parents. "This is Mr. Rickson, His wife Mrs. Ellen and this young man is Zarriot." my dad said. I nooded at my mom as she was mouthing "Be nice!". I looked at my window to his room right across the street, taking a quick note to leave the blinds closed and put up a curtain. Soon as they left, we started carrying in the furniture, the beds, my computer and it's desk. At least I'll still have my sweet life in the internet .

I signed in to my messenger and there was a message from someone called the "Z-man". Who could be talking to me with that name? I wondered. Opened the message and it read "Hi new neighbor! This is Zarriot from across the street. Your mom gave me your 'im' name for we can be friends. She mentioned that you would be kinda grumpy since your from Alabama." he wrote.



Firegirl_160: Yeah. You do understand the world Privacy and it's defitnition, right?
Z-man: Yeah, I guess I do. Why?"
Firegirl_160:Good. now leave me alone sweetie!

I logged out and flopped down on my bed and looked out the window in a small space. I see him. He's looking at my room window. "What does that hot boy understand" I say to the empty voice of my cold room. I got up from my bed, to head down the stairs to help my mom unpack some silverware and dishes and bowls and strainers. Next thing we heard was a door bell. "I'll get it mom." I said heading to the door and peeking through the door. Great, it's him. Whats his excuse now. I opened the door and "Uhhh..may I borrow some.. salt?" he said nevously eyes on me, "Come in you idiot." I said turning around back to the kitchen. I took the cup ou t his hand and poured a whole half cup in it. "Now, take the salt, go home and put in down your throat so you can't talk and bother me ever again." I said pushing him by his back out the door.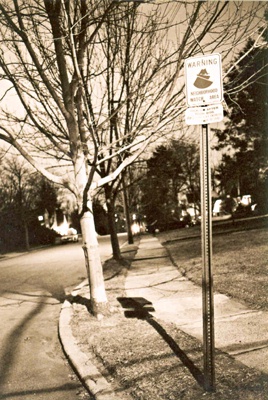 © Samantha G., W. Orange, NJ