The Angel Chapter 10:Serena, The brave and the strong
March 28, 2012
There was a knock on the door and Dr. Smith came in softly. "Xavier...may I speak to you?" he whispered so he would'nt bother the other friend, Sierra. Xavier got up and walked over to Dr. Smith. "What is it Dr. Smith?" Xavier asked cautiously paying close attention to his words. "I'm letting everyone that knows her in, she should awake in less than twenty minutes." he said waiting to see Xavier's reaction. A big smile rose on his face as he ran to the waiting room to tell off the good news and get the rest of the friends, They came sat at her side, especially Xavier holding Serena's hand. Ten slow minutes passed as everyone was still awaiting for her awaken.


Many hours passed and all her friends headed home, but Xavier was still ther on her side for the whole time. He fell asleep holding onto her smooth cold hands. He woke up and realixed how cold they were and he started to worry about the bad things that could be happening. He slowly looked at her very pale face and wondered if she was okay. He gave her a soft kiss and went to take a small walk around the block. He was impatient as he was watching the elevator buttons mark off the floors as he waited for the lobby, to realize he was softly crying and starting to feel so upset. He changed his mind and sat in the waiting room.


He cried to himself for a little while , but then fell asleep in the chair.

(In his dream...)
Serena was loving on Adam and he was chained up and being tortured by Adams gang. He looked everywhere to see who was hitting at him but saw completely black. The only thing he saw was his one and only love,Serena. He tried to yell angry insults at Adam , but his voice was so silent and low he couldn't even hear it. Then he felt a strong and painfull jolt on his chest.


He jumped out of the seat where he sat in the waiting room and saw that all the lights were turned off and the only light coming from the nurse's station in the far corner as someone walked out of the elevator.
Wait...he realized that he knew the person that stepped out. It was Serena. "Serena...are you there?" he said whispering into the silence of the darkness. "Xavier, is that you?" she said worried and sad. "Yeah,...I'm right here for you. What's wrong?" he said walking quietly to her as she was leaning her body against the wall on side of the elevator. "No...nothings wrong. I'm okay now. But,...", She looked around as if she was followed, "I had a very strange vision when I woke up". She said looking at Xavier with her glistening damp blue eyes.


"What was it? Is it bad?" Xavier kneeled before her holding her hands. She turned her head the other way then looked at hie eyes. "It ...was Adam. He's coming. Here." she said slowly ""Jeez, cant he just get over it!" Xavier said and turned the other way in anguish. "What are we going to do. We can't just keep running away from him. Wait,...How can he be coming if he shot himself at the old master's office?" he said looking at Serena with cautious eyes. "He's....Undead." she said.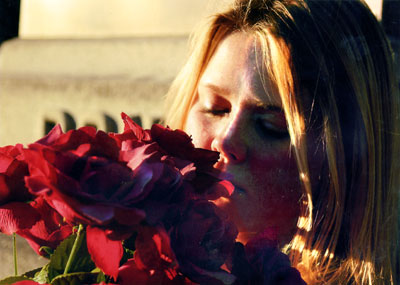 © Jon G., Bethesda, MD