Partners in Crime
April 2, 2012
I was paging through a magazine at the coffee shop I went to every morning at this time when he walked in.

I was feeling kind of down because I'd just gotten fired from my job, so he greeted me first. "Hey, Roma," he said as he sat down on the stool at the counter. "Fancy seeing you here." He winked.

I came over and sat down next to him. "Hi, Casper."

We both ordered what we usually did: he, a latte, and myself, a smoothie. Mango.

"When are you ever going to try the coffee?" He asked, half-jokingly, half-seriously. I'd never drunk coffee in my entire life.

I shrugged and didn't mention getting fired. I also didn't mention that my name wasn't Roma.

"Look, Roma," Casper began, clutching his coffee cup without drinking; I sipped my smoothie daintily and ignored the almost tangible tension. "I know we've technically been da…I mean, I felt like we were date…but…" He took a deep breath. "Would you like to go out on a date with me?"

I patted my lips with a napkin and stood up, making two decisions at once. "Yes." I replied. "But before we go, I have to get a few things straight. My name is not Roma."

"Mine's not Casper," was the immediate response.

I blinked and tried again. "I've been coming to this coffee shop because you pay for my smoothie."

"And I've been stealing the money it cost me out of your purse."

I raised an eyebrow. "I got fired today."

"I've been jobless for weeks."

I laughed out loud, and he followed. When we were finished laughing, he took my arm. "C'mon, let me buy you a latte. I promise I won't steal the money back."

I laughed again. "Fine by me. For our date, can we maybe try something like taking over the world?"

He seated me. "Definitely."

I grinned and stuck out my hand. "Emma."

He grasped it. "Jack."

We smirked and drank our lattes. Partners in crime.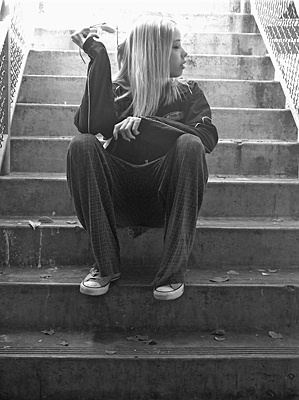 © James M, Walnut Creek, CA