In Eyes
June 4, 2012
"When I know your soul, I will paint your eyes. . ." the actor whispered to his love in the movie

"Could you paint my eyes?" I asked you playfully, fluttering my lashes

You cast your gaze around the studio and picked up a pencil and paper. You looked at my faces, yours cool and calculating. You quickly sketched my eyes.

You wordlessly handed me the scrap. My stranger eye stared back at me with no light.

That's untrue. You have the light from the window reflected perfectly. All the little lines are there and the crease in the corner when I smile is in appearance.

But there's no emotion. That's just like you.

I sigh. What happened to romance?

"If I can draw them I'm sure I can paint them"

You missed it. Again. Another chance to prove you words. You say you love me. I don't think you do. I don't think you even feel.

When did art loose the passion? You got the drawing award in our school. I know whey it's because all you work is so realistic. Your drawing is so realistic because you're so literal.

I stare at the screen and the artists reveal their paintings. The shapes swirl and the colors blend. You don't think it looks like the girl at all.

I think you're wrong. I think you can feel how just they love each other. I watched him paint her and the canvas reflects all their feeling in between them.

I look down again at the pictured of me eyes and I can feel the emotion between us too. It makes my eyes well up with tears.

I think you see them. You're probably thinking of how to draw them.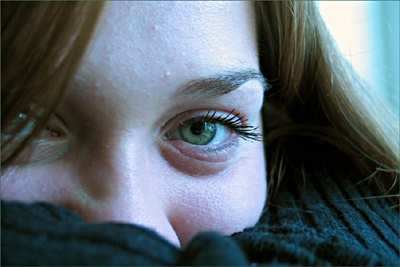 © Andrew M., Belleville, ON, Canada