The Promise
June 13, 2012
"Do you want to hear a story?" I asked Becca. She nodded her head with excitement. She was a beautiful little girl. I was lucky to have her in my life.

"Yes, please." She begged.

"Are you sure? You might not want to hear this story." I told her.

"I do. I do. I do, so tell me." She jumped with joy as I smiled and hugged her.



It all started that summer afternoon in this park. I looked around, nothing has changed. The swings are still exactly where I remembered them to be. I remember swinging beside him after dinner on our first date. Then he walked me home and kissed me goodnight. I remember the jungle-gym where he'd hang upside down and talk to my while I sat on the bench and sketched a picture of him. I remember the slide pond where we'd skipped rocks and watched the sunset. I remember we fed the ducks bread that we brought with us. But most importantly I remember the worst part of this place, I remember the bench that we sat on the night it happened. The night he left my life for good. This particular bench sat in the middle of the park beside the dolphin fountain. It was a beautiful site in the summer because birds would gather there and people would drop pennies to make a wish. They say your wishes come true, because the fountain is suppose to be lucky and magical, but I've never had any luck.

"I love you," I remember him saying those words. Those were the last words he spoke to me before he left me... The last thing he had to tell me before he abandoned me. He was the first and only guy i'd fully given myself to, and that was because I was and still am in love with him, but it hurts because he isn't here with me.

"You know how much I care about you," he explained. "so, I have to do this. It'll make me a better man."

"You're a perfect gentleman! I don't see how you can get any better." I shook my head. "How can you leave me? How does saying the words. 'Goodbye', not totally break your heart?" I asked.

"I'm not saying that they don't, Brittany." He sighed, "I'm just saying that this is something that I want to do. It'll bring honor to my family. They'll even pay for my college, you know my parents can't afford to pay for my college." We sat on the bench in silence after that for what seemed like forever. Then he took me by the hand and walked me to the fountain.

"What are you doing?" I asked him as he reached into his pocket.

"Here," He handed me a silver dollar. "take it." He put the coin in my hand and smiled at me.


"You know this fountain doesn't make anything come true." I protested. I tried to give him back his coin, but he refused to take it.

"I'm not telling you to make a wish. I know that wishing on a fountain is just stupid. I'm telling you to promise on it." He cupped my hands in his and kissed me gently.

"Promise on what?" I asked as he pulled away.


"That no matter what, we'll always give us a chance. We will always be together as long as we still have feelings for each other. We won't be with anybody else under any circumstances as long as we still love each other." He smiled hoping I wouldn't think he was a fool.

"So, you don't trust me? Are you saying I'm going to cheat on you?" I asked jokingly.

"No. No. No. I trust you with my life, boo, you mean so much to me. You'll be all I'm thinking about while I'm overseas." I believe him, because he'd be all I'd think about when he was overseas. We dropped the coin in the fountain together, and he kissed me on last time.

"I love you," I smiled. "Promise me you'll come back?" I asked.

"Yes, I promise on the coin that I will also come back," He laughed.

"Wait, does that count or do we need a new coin?" He rolled his eyes.

"I'll be back, I promise. You will be surprised by how fast a few years can go by." He kissed me again deeper and I realized that this was his 'goodbye' kiss.


"He lied to me." I shook my head. Becca was interested, "The years have gone by so slow. Every day I think about Jacob, because I can't help it." I explained hoping she'd understand. She was so mature and understanding for a five year old.

"Where'd he go?" Becca asked.

"Overseas." I explained. "He isn't here, Becca. That's what matters and that's what hurts." I sighed.

"Are you sure about that?" Asked a voice I thought I'd never hear again. I turned around to find him standing there in his uniform with a bag across his shoulder. He was so grown up and muscular, everything about him seemed to be even more attractive. My heart just about jumped out my heart it was beating so fast. I stood up as he dropped his bag and I jumped into his arms. He kissed me like he did the night he left and suddenly it was like he'd never left.

"Mommy, who is this man?" Becca asked. She looked confused. She was probably wondering why I was kissing this strange man.

I smiled, "Becca, honey, this is your daddy." She didn't hesitate to join our hug. We were a family, and I was glad Becca had the chance to get to know the amazing man that'd I'd fallen in love with.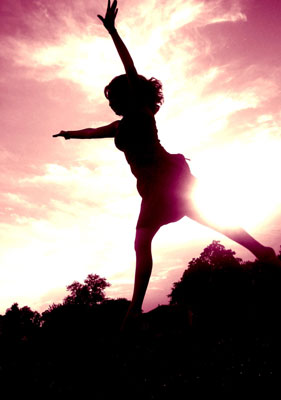 © Martha V., Morton Grove, IL