An Accident In Time
January 15, 2013
The young woman sat contently leaning her head back with a sigh. She felt the frill fabrics in between her fingers as she raced her hand side to side on her classic spotted dress. Curls of an older time adorned her fine and sculpted face as she glanced to her side. Her lips parted in a smile so sweet and so tender when she beheld her beloved. He was just a simple man, he said. He wasn't some rock star, or war hero, he was a clerk, only a clerk. He wore a sturdy yet soft button down shirt with an agile, triangular patterned vest and tie. He sat alert and focused; his eyes barely leaving the road. He was a simple man, the young woman mused, and much more. He was hers and she was his. Her thousand watt smile was appearing at the thought and widened even farther when another came into her mind. Unconsciously she caressed her stomach.
This brought the attention of her young man away from the road and onto her. He smiled and hummed a little while resuming his courageous task of safety.
"We ought to think of some names don't you think?" His deep voice rumbled happily. She again watched her beloved from the corner of her eye and caressed her stomach.
"Yes, yes we should." She replied thinking it over as they exited off of the great roadway to a smaller one below.
"I was thinking Annabel" He said after a long comfortable silence. She was surprised at the name. She would have thought that he would have gone for Francesca or Dianna after their mothers. She chuckled inwardly thinking 'we still haven't truly gotten the hang of this couple thing yet'. Feeling curious she said
"Maybe," she drew out, "why Annabel?"
He turned and looked at her with utter love and joy evident in his eyes for a moment. Only a moment, it didn't last very long in real time but to this young woman in love and happiness, it lasted a lifetime. And she still wanted more. His eyes were as gentle and excited as he glanced at her. His whole posture exemplified love. The young woman blushed as she congratulated herself once again on agreeing to marry him.
"I like that name." He answered simply.
She shook her head inwardly giggling. He had used the same words on her before; but that time had passed and she treasured it in her heart of hearts. Nobody would take him away from neither her nor her memory. They were hers, just as she and his memories were his.
"And what if the child is a boy?" she asked him again playfully. She hoped to get a different, out of the ordinary answer from him. He did give extraordinary phrases often; she just had to catch them.
"James" he answered still keeping sentry to his duty.
"James…" the young woman said ever so softly, "I like that one too."
He turned to her and no words could do justice to the scene before him. How could any word describe the environment? The only word that came close was love. He turned back to the road cherishing the picture of his wife and child in his own heart of hearts. The young woman began to say something when a flash of lights raced towards them. Driving as they were the car would be on the passenger side. the young man tightened his grip of the wheel and maneuvered so that there was a cushion for his family. He glanced back to reassure himself. Then more lights appeared, and more and more as they raced past them.
"What's going on?" the young woman said. When the young man saw the change. Now it was a one way road, with three cars all coming towards the young family.
"Honey we ought to pull over." The young woman said as she suddenly felt the jerk to the right. And she rushed her gaze to her beloved husband. She saw his eyes light up with a tear and a smile on his face. He mouthed something as he unbuckled and shielded her from the metal destruction.
He mouthed "I Love You"
She screamed. She screamed and clutched his head to her chest as she saw the blood and open wounds that surrounded his body. She screamed his name over and over, but she got no response. After thirty minutes she was only sobbing. She sobbed and sobbed and fought off men in uniforms as they tried to drag her and her beloved out. She finally surrendered. She clutched her stomach and fell to her knees.
She screamed one last time his name then with a final tear,
"I LOVE YOU"
After that she cried no more.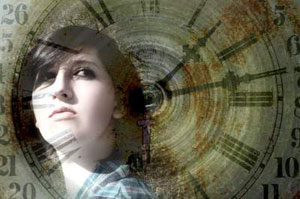 © Ryan K.