In the Shadow of Silence
June 29, 2013
Jason walked away with Chelsea on his arm. Tears threatened to fall from my eyes but I pushed them back with a small growl. Damn it!

"Cassidy?" the small voice of my brother called from behind me and I turned around careful to make sure that no emotions showed on my face.

"I'm fine, John. Really," I said and shouldered past him. I could feel his sad, sad eyes on my back but I didn't turn around and I didn't stop. I had to get to Micheal's. He'd know what to do. He's been my best friend since forever.

I pulled the keys out of my back pocket and made my way to my car. I will not cry. I will not cry. My own personal mantra.

It took only fifteen minutes to reach his house. I pulled up behind his BMW and got out, not bothering to lock the doors or roll up my window. People knew better than to steal from his house.

I walked onto his porch and went right in. I'm always welcome here.

"Cassy? That you?" Micheal's familiar voice rang throughout the doorway and I smiled faintly. He always knows when it's me.

"Yeah." I walked over to his living room to find him sprawled out on his couch, the remote in his hands. He looked up at me and sat up, recognizing the look on my face.

"S***," he said and made his way over to me, "he dumped you."

I nodded and burrowed my head in the crook of his neck, feeling my tears fall down my cheeks.

"Can we not talk about it?" I asked and sniffled. "I just...don't wanna remember what a jerk he is at the moment."

Micheal pulled back and searched my eyes. He , then, shrugged and led me over to his couch and sat me down. He flicked on the TV and pulled me to his shoulder and allowed me to rest my head against it. God, it felt good to relax.

"Can I ask you something?" Micheal asked and I looked up at him. I nodded and he smiled softly before his face became serious. "Did you love him?"

I froze, not understanding why he would ask me such a question. Did I love him?

I mentally shake my head and sigh. No, I didn't. He was just there to make Micheal jealous.

"Nope. Why would I? I knew what he was the second I went into the relationship," I said and looked up to see him smiling. "Why?"

"Because I love you."

I froze again and closed my eyes tight. He loved me? Since when?

"I've loved you since we where twelve," he said and my eyes shot open. I looked up at him to find he was staring down at me.

"Same for me."

Micheal stared at me in surprise. "Really?" I nodded. He smiled and leaned his forehead against mine.

"Good. Now I don't have to worry about some other asshole taking you," he said with a smile and I smiled back.

"Yes, well, I was always yours. I just dated other guys to make you jealous," I said with a teasing smile and he laughed. He brought his lips to mine and we kissed.

It was good to see he felt the same way.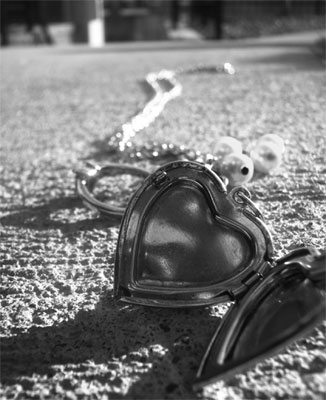 © Francesca Y., Robbinsdale, MN