Tasting Santan [Flowers]
February 16, 2014
They walk in her grandma's garden,
laughing at his joke
(about a torpe* boy

"And so, the girl tries to take
the bouquet of tulips from his hands..."

giving flowers to his crush)—

she carefreely;
but he rather nervously.

"...but his fingers wouldn't budge!"

Her laughter calms down
to an amused smile.

"Being torpe is a curse."

"Hey,
You can't make mean jokes
about torpe guys just because—"

"I'm no torpe?"

Smirking,
he picks a bright yellow gumamela
from the plants they're passing by,
and puts it in her hair
above her right ear.

She draws in heavily
then drawls,

"Yeah."

"Okay."

They crouch under a Kanya Pistula,
sit on the thick roots groping for the sunrays,
which fiercely heat up the grayish-brown ground—
and which, on their arms (filtered, sifted),
sheen and dance.

"What's taking Kay so long?
We'll be late."

Their friend said
she just needed to relieve herself quick,
so that they could leave Makati ASAP
for Jason's despedida party in Parañaque,
and arrive at two hours top.

He shrugs;
she hugs herself,
though it's (tor)me(n)ltingly hot, for she can sense
her own minute tension—

There's something about being alone
with a not-so-torpe boy
in a brightly beautiful garden rarely seen in NCR,
flowing with sampaguitas, and morning glories,
and dozens of different kinds of orchids
(vanilla purple. lavender blue, white - streaked
with dark fuschia and soft lemon)
and golden and bengal trumpets,
their fragrance spicing up
the scent of the dry season drifting in the air;

—there's the tinge of her desperation
to cancel any inappropriety, in either
of their minds, which he seems oblivious of.

"Have you ever tasted Santan?"

he says, taking a flower
from the Ixora bush beside him.

"Taste?"

"Yeah."

"I've made bracelets out of it before,
but not... taste."

The flowers are a deep pink,
not the bright red-orange color
typically seen on the busy city streets.

"Here."

He pulls a thin, almost transparent
straw from the center,
then licks it.

"That's— you're disgusting."

She laughs
the way she laughs when he jokes.

"Just try it!"

He repeats the process;
holds out the fresh one for her.

She squints and stares at it,
and at length her eye(lids flutter) open
to their full innocence,
making his heart skip a beat.

"Tell me first why I should do it."

"Because deep inside,"

he brings his face closer to hers—
his voice to a whisper,

"you know you want to."

She takes the style with the stigma
and does the same.

"Hmm?"

Her lips tight,

"It's sweet."

"See, it wasn't that bad,
now, was it?"

They laugh—

he carefreely,
she rather nervously.

"No, I guess
not."

He holds her face with both his hands,
and lean forwards it—

he has to do it,
because deep inside
he knows
he wants to.

But she pushes him back,
rapidly, ruthlessly,

"Tris!"

And it all floods back to him:
the signs of an appointed distance;

ever since he's grown attached to her
all the sweet, little things he's done
for her, acknowledged
but quite unrequited;

and he stops—

mad at himself,
mad at her,
mad at their plight.

They swiftly stood,
turning away from each other.

"Why do you always make
a fool out of me?"

"Oh, it's me?"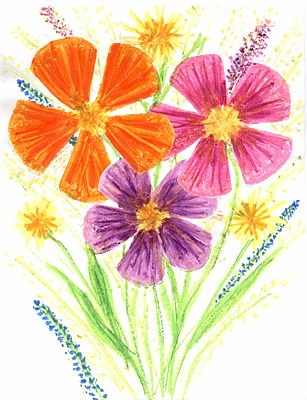 © Marissa M., Rockford, MI