Night Sleep
February 18, 2014
Her face was wet with warm tears rushing down her face, hands bloody she was chained to the floor. All was quiet except for the occasional sob of helpless agony as pain surged through her spine.

"Usless...Failure...Dead...Revolting," the walls seemed to cry, "Discusting...Stupid...Worthless...Fool" the floor and ceiling replied as darkness held her as a prisoner.

"Leave me alone." She hopelessly muttered the words. Then the sharp pain surged through her again making her collapse to the floor, there was no more energy to even blink out another tear.
"Why do you even try?" A deep stomach-wrenching voice mocked, chuckling at his tantalizing statement. "Its just you and me like always."
She felt the chains come off and another surge of pain made her jump at the shock.
"I just want you to DIE!" She yelled between sobs as she could hear the origin of the voice move around in the dark.
"Oh, sweetheart, you wouldn't want that! Then no one would be here to keep you company as you sleep!" The words came out as if a snake were speaking them, hard to swallow and sinking in your throat. A loud Bang followed as her eyes flung open to find herself breathing heavy under thick sheets with the deep lull of a voice comforting her, his hand caressing her cheek, rubbing off the sweat along her forehead. She laid in his protective embrace, arms tight as she could tell she woke up from his hug.
"Its ok baby; I'm here sweetheart." He cooed and she squeezed her eyes shut while burying her face into his bare chest. His chin rested on the top of her head and smoothed out her hair with his hand. "Shhhh go back to sleep, I've got you."
Rearranging herself she placed her head on his chest, her hand laying on his skin.
"I love you," he whispered as she closed her eyes.
"I love you more," she whispered back. Her eyes heavy as she fell back into a deep sleep, with a soft No ringing in her head as light dreams started to dance.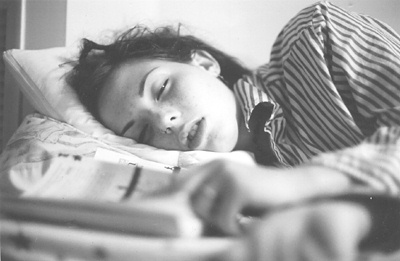 © Rosie A., Lexington, MA