I Don't Want To Dance Anymore
November 11, 2008
The world is dancing around me. The colors are swirls and I'm laughing.

"I've never seen the world like this before." I exclaim, still spinning lightly in a circle.

"Everyone could see the world like that if they spun around enough." He chuckles.

I stop, swaying into his arms. He pushes my hair back. I smile.

"Dance with me." It was sudden. "Dance and see the world as I see it."

His smile vanishes. "I - I don't dance." He moves away, pushing me away from him.

"You don't dance?"

"No."

"Not once?"

"Never."

"Then do it for me." I take his hand.

"Just one dance. Move with me."

He doesn't smile. "I -"

"For me please!"

"I can't. I don't. Never have. Never will."

My smile vanishes. "Any one can dance."

"Not I."

"Not even for the one you love?"

He isn't smiling. He doesn't face my eyes. The world stopped and it's colors went gray.

His voice was gossamer, a piece of the wind. "No," Where is the world we were just in? "You...You deserve someone....someone who would...dance for you."

I step back. The world of ours has gone, the vastness of the universe has created itself between us. "No..."

"Yes."

We are now two worlds apart, but I know he must've hear me when I said:

"I don't want to dance any more."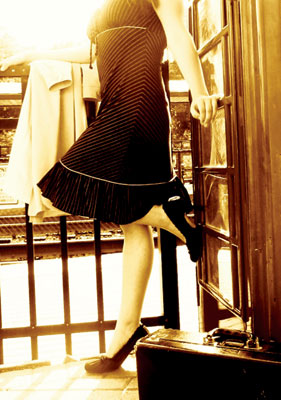 © Martha V., Morton Grove, IL