Remember
April 1, 2014
There came a time in my life when my days, months, and years flew by and all I could do was sit and watch as they disappeared.


As I walked across the boardwalk, I noticed it was just as crowded as the carnival rides. This place never changed. It was the same old sleepy town it had been for the past fifty years. In my younger years, I was just the same as these kids today. We would run around and scream, always trying to reach the rides before everyone else. I was more disciplined though. There were days before my hair began to grey, and my skin began to wrinkle that I had the innocence that was inside of all of them. I was just like all of those boys, on their first dates, searching for love. Just when I found it, it faded away.
Carolyn was a busty strawberry blonde with the attention span of a three year old. She was smart as hell, and one of the strongest people I had ever known. She never let anyone talk down to her. Back in the sixties we were just two rowdy teenagers who were out for a good time.
One night we had gotten all dressed up, and agreed to meet each other at the pier. It was our secret meeting place, somewhere no one would ever find us. Not at that time of night. When she came, she had done herself up. Carolyn had braided her hair, worn that silky dress, and put on the strawberry lip-gloss I loved to lick off of her lips.
"I love you," I had told her. We sat there, our feet in the water, and her head on my shoulder. The moon illuminated her face, and made her seem almost... angel like.
"James, I love you too!" She had thrown her arms around me and kissed me.
We made love that evening for the first time. The way she had made me feel, was like nothing I'd ever felt before. As our limbs tangled, I could imagine us being together forever.
And forever is how I intended it to be.
"Meet me at the Ferris wheel tomorrow night," I kissed her lips, and hopped into my Chevy before she could reply.
From that moment on, I never forgave myself. The reason? It was the last I ever saw of Carolyn Summers. I didn't know she was missing until she never showed up. I had waited at the Ferris wheel for her, nervous and scared. The ring had cost me my whole savings (which wasn't much). When she didn't show, I had stormed off to my car, ready to go to her house to give her a piece of my mind. I drove in silence, causing my anger to eat away. I had prepared myself for her tears.
Until I saw the flashing lights.


At first it was chaos.
"Jack, Dana, what is going on?" I asked.
"She's not with you?" Her mother asked.
"No. She was supposed to meet me at the carnival..."
The reason she didn't come, the police, her frazzled parents. It had all been leading up to something I didn't want to admit.
"That means she's missing Jack."
Missing.
"How long?" I had asked. "How long has she been missing?"
"Since last night," her father said.
Last night.
That night she had been with me, until I had left her alone. That night she had been taken from us. I never told them that I was the last one to see her. Even when her body was found in the woods by the pier. I had never spoken up. That is why, every year, I went to the carnival and waited by the Ferris wheel, awaiting for her to arrive. Hoping that it had been just some cruel joke.
Then my visits had become less frequent. Until I stopped going back all together. The pain and the guilt had become unbearable. I had only known one way to stop the pain.
"What are you doing?" A screech halted me.
I had tied one end of the rope to the Ferris wheel (which I had climbed halfway up), and I had tied the other end around my neck. I had been planning my suicide since the day they had found her body. The Ferris wheel had been symbolic. The place we met, would be the place I died. Until that girl stopped me.
My heart hadn't beat the way it did when I had met Carolyn. But it had made me stop thinking of her. Even for just a moment.
"Get down from there!" The girl had yelled.
I soon found out her name was Sydney, and not too long after, she became my wife. Of course it was a shotgun wedding, she had been carrying my child. But we still married nonetheless.
My daughter, the light that lit my path in this darkened world. We had named her Carolyn. After the one that had caused me so much grief. She was the one who had gotten away. As my daughter grew, I told her stories of my first love. Of the girl I had wanted my forever with.
"But daddy, why did you leave her that night?" My daughter would ask me.
'Why did I leave her that night?' I would ask myself. It was just one of those things that I wish I had an answer to. My daughter ached for me, and she would leave flowers by the carnival ride. Everyone did.
Carolyn had become a legend. After her murder mothers kept their children inside, and fathers slept with shotguns under their mattresses.
The fall had come and went. Each year more people forgot about her death, and just talked about her around campfires. I had never forgotten. Not even when illness overtook me, and the chemo began to weaken my body, as my immune system took in new chemicals.
My hand had shook as I laid flowers down by the memorial next to the Ferris wheel. Her parents had long passed, and she had been an only child.


"When you close your eyes tonight," I had paused catching my breath. "Remember." I whispered, leaning on the bench beside me. I had been slowly creeping towards death, a breath at a time.
The laughter sounded around me, and the lights had become brighter. Something was wrong.
I tried to scream out for help, but my gasps had covered my cries for help. My left arms had a sharp shooting pain going up it, and my heart beat quickly.
The lights had begun to spin, and it felt as if I was being spun around in circles. Slowly, I had collapsed to the ground. Then everything had gone dark.
When I finally came to, my daughter was there along with her husband and three children.
"Daddy," she whispered. I had begun to speak, before a bright white light stunted my vision.
"She's here," I had whispered reaching my hand towards the strawberry blonde. "She came back for me."
I could hear my daughter sobbing, but I hadn't paid any attention. My mind was stuck on the purple satin dress the girl wore. Carolyn, my love, she hadn't changed a bit. She had still looked exactly as I remembered.
When she had held her hand out for me, I reached towards it, and grabbed a hold. Before I left though, I had leaned closely to my daughter.
"When you close your eyes tonight," I whispered smudging the black stain under her eye. "Remember," I had told her.
Then I had closed my eyes, and reunited with the only woman I had ever truly loved.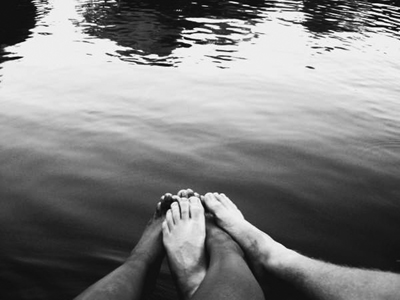 © Michelle W., Ada, MI