The Symbolism of Daisies
June 13, 2014
He watches her like Hades watched Persephone before stealing her to Hell.

She does pirouettes in a field of sunflowers that are wild with long stems and short petals. As he observes, she reaches up, stands on her toes, stretches her fingers and lightly caresses their golden and yellow hue. Her eyes shine just as brightly as the flowers do, but instead of aureate they hold the color of the sky.

The girl with blue eyes and a laugh like wind, pink fingernails and a perfume like morning dew on newly cut grass; she is his fresh start, just like the morning sun. But he is the man with dark eyes and no laugh at all, chipped fingernails and the scent of alcohol. He is the kind of man to have dirt on his hands longer than he can keep a girl on his arm.

She runs up to him, the head of a daisy held precariously in her palm. She looks at him with her wide eyes, her nose twitching and her lips curled. She sits down and extends her hand, offering him the flower (that's the same color as her eyes).

"Look what I found," she says, awe lacing her voice like honey added to tea. "It was the only one." She urges him to take it.

"You keep it," he murmurs, taking her one hand in both of his. With a concerted effort, he closes her slight fingers over the petals.

"But I want you to have it," she says, clinging to his hand before he can let go.

He smiles at her, shakes his head and pulls away.

He doesn't have to look at her to know tears have formed in her beautiful eyes (that are the color of the sky and the color of daisies). He can tell by the way the wind is gone that her heart is breaking, as if the earth has stopped to witness.

From the corner of his eye he can see how the lace of her white dress dances against her legs, and how her fingers flutter over her knees in a nervous gesture.

He reaches to take her hand, but she pulls away with one fluid movement. She stands up, her toes curling into the ground and her hair glittering in the sunlight. He looks up at her, and she down at him, and he smiles as she frowns. She hasn't bothered to wipe her tears away.

Then, as if nothing has changed, she twirls away, back into the forest of sunflowers and golden hues
and shadows. He turns his face in the other direction. He can't stand to watch her leave; except, some part of her has stayed. He reaches down, carding his nimble fingers through the sharp blades of grass, and then he reaches and grabs the small flower she's left behind.

He holds the daisy in both of his large hands, cups it like its something precious – which it is (because
Marrs, Symbolism, page 3
it's the color of her eyes). The soft blue is a deep contrast to his dirty skin and his chipped nails, but it's stunning.

With shaking hands, but without damaging its fragile petals, he places the flower in his pocket. It lays directly over his heart, so he can always hold a piece of her there, can always remember how she swayed in the flowers and the beautiful color of her eyes (blue like the sky and blue like daisies).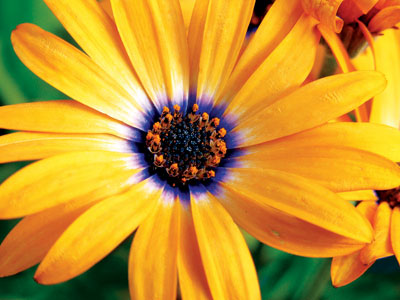 © Vania M., Voorhees, NJ