A Simple Greeting
July 4, 2014
I am ugly. An ugly girl would never get any greeting sort from anyone anywhere. If I can't even get greeting from a girl, I already know that I won't get any from a guy. There's not much hope left for me to even plop myself in an relationship with a boy much less with a cute one. My life completely changed on the second Monday of July.

"Hey." That simple word made me look up. A boy with light hazel eyes and black hair was looking at me, bright eyed with a smile on his light tan face. His hand went up to my face and brushed away a loose hair strand. My heart fluttered with excitement and hope. I looked up at him and smiled.
"You're beautiful." He smiled at me once again.
"No, I'm not." My smile disappeared abruptly as I quickly gathered my things for next class: Global History.
"Yeah, you are." He said to me, hazel eyes twinkling. He helped himself to carry my things as I waved him off.
"No, leave me alone. You deserve to help someone better than me." I was urgent on my answer.
"No, you are better than any other girl I see in this school." He took my hand and stared deep into my eyes.

I knew he wouldn't give up as he took my hand and looked at me like that. My heart immediately stopped being tight and hanged on onto this one boy whom liked me the first time he saw me. He surprised me the second time he asked me out to Starbucks on the following Tuesday.
"Hey. Wanna grab a coffee with me at Starbucks?" He asked me, with an excited manner. I couldn't say no to him. He was just so cute.
"Yeah, sure." I smiled indignantly.
"Great! Come on!" We walked together to Starbucks. It was a long walk, around 5 or 6 blocks. As we walked, we got to know one another more deeply and we introduced ourselves. I found out his name was Luke and I told him my name, Ashley. He told me my name was such a beautiful name, while I laughed in return right when he told a humorous joke. Before I know it, we got there as he took my hand and led me inside the store. I gasped.

There were red and pink banners everywhere with the Valentine's Day theme, and a big box right on the center table in the middle of the room. I let go and went over to the box and opened it. To my surprise, there was a single rose. I turned around teary-eyed as Luke came over and hugged me from behind as I inhaled the scent. I returned his hug and stepped closer to the banners and read the ribbons that enclosed our names. I felt a tap on my back and looked back.

Luke was kneeling on the floor looking up at me with the same look he gave me the first day we met. I looked down at him, smiling with delight.
"Will you be my girlfriend, Ashley?" He said each word with deepened resonance that stayed within my soul.
"Of course, Luke. I would love to!" I ran up to him and we embraced into a warm enclosure. I laughed through my joyful tears as he spun me around the room. This moment was a "disney princess" true event in my once miserable life. This event started to widen my life and show me the paths of love and friendship.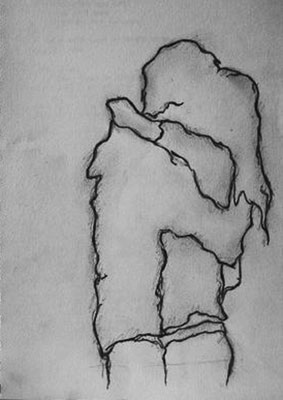 © Nicole B., Newcastle, WA