Yellow
January 6, 2009
"Tell me something amazing." Carly whispered. Sam wrapped his arms around her waste tighter, letting her head rest on his shoulder. The stars twinkled above them, lighting up the night along with the yellow full moon.
"What can I tell you that's amazing, when you are the only amazing thing I know?" His voice was barely a whisper in the night, barely reaching her ear, but she heard.
"Try. Tell me, what does the moon look like tonight, and the stars?" She asked this in earnest. Her pale blue eyes were open and watery. Unfocused though they were, Sam could see her emotion, her struggle.
"The stars are everywhere. They shine brightly down on us, making sure we are safe. The moon is down here with us tonight, big and yellow and comforting." He gulped back a sob, trying to gain his composure, for Carly.
"Sam, what is yellow?" She tried her hardest to understand, she always had. Her voice had grown a little louder, like she was no longer afraid for a second.
"Yellow is warm, Carly. Yellow is loving and inviting and special." He kissed her cheek. Her blue eyes blinked as a tear slid down her face. He felt his own tears, flowing silently.
"Sam?" She asked. Her voice was at normal volume, wavering, echoing on the rooftop they perched on.
"Yeah?"
"Yellow sounds like you." Her arms tightened around him, her eyes finally closing as she found an inner peace. "You are my moon, Sam. I don't need to see to know that."
Sam patted her head and kissed her cheek again. "And you, Carly, you are my amazing rose."
"Sam?" He held her tight as she spoke.
"Yeah?"
"What does a rose look like?"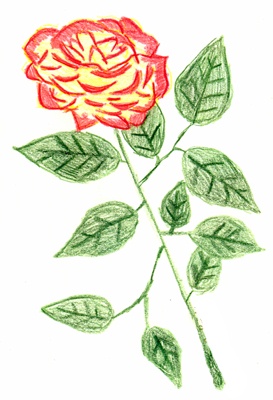 © Kelly A., Niscayuna, NY