Leather Is My Middle Name
May 22, 2015
Everybody knows him. The forbidden bad boy. He has a sort of charisma that gives off of him like how sand is attracted to sandpaper. Everybody wants to be close to him in a certain way. My friend, Jessica told me he came from a faraway place, and that his parents are leaders in a company corporation. I, on the hand, was very poor; but still considered middle class. The boy was walking across the halls at the very moment. His spiky black hair had hair gel on it because of a certain direction his hair was cuffed. He wore a deep black leather jacket that flew in the wind. His dark brown eyes gave off a sort of protective aura to him.
He walked over to my direction. All of the beautiful girls around him opened their mouths in horror. They stared at me menacingly, and started whispering amongst themselves. One girl even stuck up her finger at me. I pretended not to notice, but in my heart, I felt a pang of hurt. It wasn't my fault I wasn't pretty like them! I looked down at my "trashy" outfit, one consisting of a grey sweater, jeans, and some sneakers. It seemed like something a normal girl would wear. But I knew, that compared to those girls, I resembled nothing but a girl whom lived on the street. Those girls dressed in everyday designer outfits, bought from Betsy Johnsons. They glowered in their outfits, always trying to make other people out of their clique feel bad about themselves.
The boy walked closer. Every step he took towards my direction, the more guilty I felt. Why me? I thought. Was he gonna make fun of me? I looked at him, and hugged my books tighter around me. I can't let him see my face, with no makeup covered on it. My mom always exclaimed that I have natural beauty, but I don't believe in a single word she said. Nobody had ever complemented me. I don't believe people anymore.
"Hey." The boy smiled down at me. From up close, I can smell his ax cologne. It also smelled like a mixture of shampoo and conditioner.
"Hi." I looked down at the floor, not wanting to stare at his elegant face. I heard him shuffle his pockets, as if reaching out to something.
"What's your name?" He smiled. He ran his hands through his hair. He stepped closer. What does he want? I thought.
"Melody." I muttered. I awkwardly stepped away from him. He closed the distance once again.
"Well, you're beautiful, Melody." His voice softened once he said that. The moment he said that, my chest heaved. Not once, has a boy called me that. Especially a cute boy. I felt tears fall out of my eyes, and I felt embarrased once again. I was probably the only girl whom cried when anyone complemented me, with the exception of my mother. The boy saw me, and immediately took out a couple of tissues. He handed them to me.
I took them, and tried smiling through my tears. He took my hand, and led me through the hallways, and out of the school. We sat at a big grassy meadow outside, and he took off his leather jacket and put it on me. I finally found my voice.
"What is your name?" I shuddered, as I said. 
"You don't have to worry about that, darling. All you gotta know is that leather is my middle name."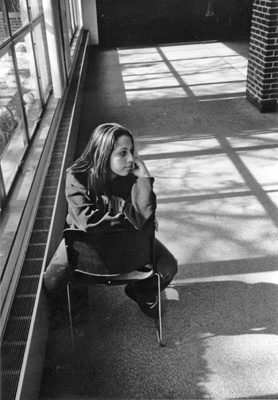 © Leighann E., Westport, MA