Bits and Pieces
July 13, 2015
It still feels like a bad dream, like I'm going to wake up any second now. I never knew how quickly I could get used to something new, so much that it became a security blanket. How strange; it's so difficult to describe.
Its almost like a change in vocabulary. A little quirk of mine is that I'll buy cheap books from the sale section at Indigo Books, skim through them, and highlight any words that I don't know the meaning behind. When I'm done the chapter, I'll rewrite the words and look up their definitions in the dictionary, making it my goal to use the new words once a day for the next week. In my eyes, it was supposed to help me improve myself. I've never forgotten a single word that I've used this way.
Spending time with you was like that: I picked up on your actions, your gestures, the words you used and the love you gave. I've begun to use them in my daily life, too. I unconsciously portray the plethora of little bits and pieces of you that have stuck with me, and just like my vocabulary words that have improved me, I feel like they've made me better, too.
I was really intrigued by your autobiography; I wanted to keep reading. I guess I still can this way, and you can teach me new lessons, add to my vocabulary some more. Bits and pieces of what I've learned are scattered around my room - I haven't moved them. There's a polaroid picture of you by Pan Pacific downtown lying beside my notebooks, and my name, written on paper by the ink of your pen in handwriting, stuck with a magnet on the whiteboard across my bed. Even the tissue paper with my red lipstick smears is on top of my drawer, and I haven't moved it yet. I wasn't really planning to keep it, but it doesn't look like it's moving any time soon. There are so many other little tokens, each of which remind me of lessons I've learned, experiences I've had.They've done nothing but make me better; just like the words that I've added to my vocabulary, I will always have these little bits and pieces with me.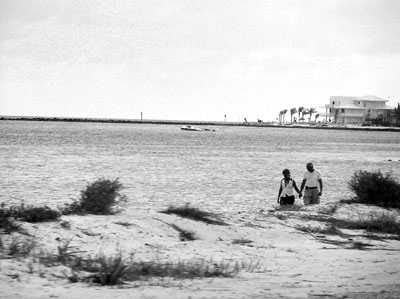 © Edgard B., Coral Springs, FL