Emma Waters
August 1, 2015
Emma Waters knew exactly what she was, she was a shadow on the wall, a painting that had hung for twenty years a freckle on the face of your older sister. Emma waters was unnoticed and that's exactly how she wanted to stay.
Because Emma's story has been told so many times, in so many ways. She'd been a villain and a victim, she'd been selfish and she'd been the object of neglect. But what the storytellers, what the journalists and the news reporters and Media never said was what happened afterwards, what happened to Emma waters after he was caught.
The answers simple, she lived on. She did everything that was expected of her, she grieved and she went to therapy, and eventually she stopped crying in the corridors, she stopped wearing black. Emma waters aged, physically, not enough to make up for how far she'd aged emotionally, but still she aged.
She knew that it wasn't her fault, and it wasn't, her parents knew that, her grandparents knew that, and her brothers knew that, and yet after that day, they never looked at her the same. They never said anything of course, but Emma knew, she knew that they could never forgive her, and she understood.
So after he was caught, after she had grieved, and the world started to move on, she did too.
And so there she stood, in the hallowed out halls of that great big university millions of miles from home, and to the common observer, well there weren't anyway. She was dressed to perfection, in casual clean sharp clothes, not fashionable enough to have people look at her in awe, but still not scruffy enough for them to look down on. It was scientifically impossible to be invisible but she was pretty darn close. She managed to stay like that for months, she didn't put her hand up in class but she wasn't silent either, as she walked down the corridors she didn't smile, she didn't frown, and yet she still managed to seem… Earnest, like she had a heart it was just covered up right now, not hiding just keeping warm . And that's how he saw her. That's how it began.
The first time he talked to her, well it was probably closer to snapping, he'd asked her for a pen. His hungover brain was completely taken aback by her response. Not that there was anything wrong with it, a simple "of course" just slipped out of her mouth as she handed him one, no what was so shocking was the accent. The British accent, that alone would have made her desired but with what he later found out was a two year age gap in her favor would have made her possibly the most sought after girl in the whole school. But he had never noticed her before and that's what got him interested.
Thom who was never one to give up, followed her everywhere, because he was curious. He had never missed a detail in his life, he noticed the girls that giggled as he walked past in middle school, he noticed the way the boys looked at him in confusion from time to time in high school, he noticed the way the grass grew, and the flowers leaned towards the sun, he noticed the way Shannon, a girl from the year above him, always covered herself up and winced a lot after her boyfriend visited. Thomas Little didn't miss anything and for five whole months he had completely failed to notice her.
And so it carried on, he badgered her. She told him to stop harassing her. He made fun of her accent. She let some of her old favourite insults escape her.  For weeks it continued on like that, and somehow despite what should have happened, what all clichés dictated, she didn't become popular or more sought after, no if anything he just became invisible. However he didn't seem to mind in fact he didn't even seem to notice. Suddenly when he teased her she had to swallow her laughter, and when she spoke, it no longer made him curious.
Well that was until March 21st she'd been looking a bit run down all week, but today she was different, suddenly she didn't look warm anymore she looked cold and broken, and he couldn't bare it. He tried subtlety and she ignored him. So he stopped beating around the bush and asked her flat out what had happened. It took a nanosecond - in that dark lonely corner of the campus - for her to snap and to scream and to tell him to f*** off because she wasn't in the mood. That was what finally gave her away, because it didn't take an intellect as high as Thom's to understand that for her to venture that far across her line she must have been in an incredible amount of pain.
The tree they sat under, in the dirt and the empty acorn shells, was huge keeping them hidden as the aged girl finally broke down.
She said that it wasn't her fault, she had looked away for just a second - less than a second and her sister had been gone. How could she have taken better care of her? It was a busy fair and the girl had insisted on running ahead. She had kept an eye on her until then and it was only a second. How could she have known... It wasn't her fault. It wasn't!
Thom listened to her talk, he let her change the subject when she wanted to and he never mentioned that day again, not until the following year.
But before that, at the end of the Emma and Thom's first year of College, she was finally noticed. She found it was hard to be invisible, when you, and the once campus bad boy, were suddenly holding hands in corridors, and kissing by classroom doors.
It was the last week of November of her second year in the US when he finally brought it up again. They were on the way back from his parents' house and everything had gone well, He figured she was in a good mood, what with her being stuffed fill with turkey, so he asked. He asked about her parents and her family and if she really thought they resented her. And they fought, she had never been this angry in her entire life, and he just wanted her to trust him.
They didn't speak to each after that, for two whole months, they ignored each other completely. But when she went home for Christmas, she watched them, really watched them, and she couldn't see it, but it had been there she was sure it had been there before.
Thom, being Thom, didn't give up but in the early days of February she did. And he was all too willing to let her, because he had thought he had lost her and in all his life Thomas would only be that scared three more times:
The first, when he finally built up the courage to explain it to her. When he had analyzed her a billion times and made sure she could handle it, he told her. They had never blamed her, she had blamed her and she couldn't see past it, and they were too busy grieving to notice before she was already gone. He was right to be scared, she yelled at him, she screamed that she was not crazy and she hadn't imagined it, but in the end she was forced to admit he was right.
The second time he remembered so clearly. His stupid best friend was nattering on about the football, the football of all things! It took everything in him not to scream at him. This was potentially the biggest day of his life and he called him up to talk about Football. Eventually he resorted to cursing him and hanging up. He couldn't help it, he was sat across the table from his girlfriend of eight years, and she was laughing at him, and completely disarming him of all courage he had managed to scrounge up. The ring his pocket suddenly seemed like a twelve ton rock. This time his fear was completely unnecessary, because of course she would marry him, how could she not.
And the last time, the time that still fills him with dread, was that god forsaken day in the hospital room. He hadn't been there when she collapsed, she'd gone shopping and he'd stayed home to review some old cases, and she'd collapsed. The nurse had called him off of her phone, and he dropped his when she spoke to him. He was so scared he couldn't drive, the neighbor had to take him. And by the time he got there Michel and Lily were there too. The sight of them, his children, weeping by the bed of their mother tore him apart. But worse, was her face, that mere hours ago had shone with the same beauty it did 60 years ago was grey, like the machines she was wired to were sucking the life from her. She couldn't say much, she couldn't move, but she did manage to tell him, not to be afraid, to tell him she loved him, to thank him before she passed only hours later.
So, yes, Emma's sister died. And yes Emma had been there when she was taken, but that was not Emma's story, because Emma's story was not a tragedy, It was a romance with tragic details.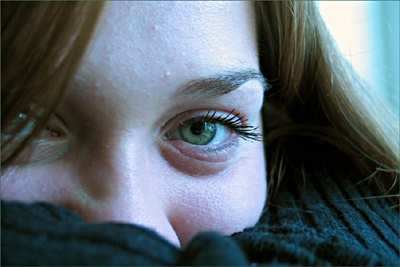 © Andrew M., Belleville, ON, Canada