On the Other Side
January 15, 2017
The sky was black, and the stars shone like little jewels in the sky. I could hear the faint buzz of an airplane, and a slight creaking of the bridge I was standing on. The water of the little creek beneath me was almost as dark as the sky, but more menacing.
I heard footsteps approaching and smiled slightly as you slid your arms around my waist. I leaned back into your arms, still looking at the water.
"Bee, you know you don't have to do this." he whispered in my ear.
I sigh and pull away so I can face him.
"Yes I do. I can't let them keep doing this to people." I say firmly, my voice barely above a whisper. I reach into my pocket and freeze as he leans toward me. I gasp as he takes my face in his hands and kisses me. He leans into the kiss, and I melt into him willing the moment to go on forever. When he pulls away my eyes are wet.
"Bee, we could be together. You know that if you… eliminate this bridge, you eliminate our only connection." The tears start to flow freely now, but I know what I have to do.
With a few quick movements a small fire blazes at my feet separating me from him.
"Bee!" he cried, a pained look on his face.
"See you on the other side." I say, tears streaming down my face as I watch him fade into the smoke caused by my fire. "On the other side." I whisper.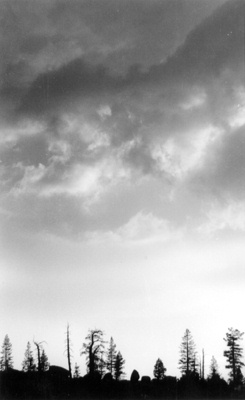 © Steve S., Marblehead, MA