In this moment
March 15, 2009
James' smile broke any wall that had once been around my heart, making me feel not only alive, but also in love. It wasn't just those feelings though. I was vulnerable, prone to heartbreak for the first time in awhile.

His hand stroked my cheek, his whole face lighting up like a Christmas tree when he made light contact with my face. I reached up and held his hand to me, letting the warmth envelope me. His free hand, which had been holding a magazine, wrapped around my waist, pulling me close to him. I gazed up at him, my heart pounding heavily. The magazine dropped to the floor with a slight thump.

'Jamie, I love you. I always will, no matter what.' James' words made the pounding of my heart actually stop for a moment, and then the beat came back, even harder than before, but short of making my breathing ragged.

'I love you too. Don't leave me again, please.' He stiffened a little at my words, and he didn't have to speak for me to know what was going to happen. James had come back for another goodbye to commence, leaving me broken hearted, wondering when and if he would come home this time. James pointed to the wedding band on his finger.

'Even when I do leave, this will never leave my finger. And I will do everything within my power to come back. I would go to the ends of the earth, just to see you.' I let out a small cry of pain, hope, and overwhelming passion. The matching ring on my finger felt like it was tightening on me, refusing to ever let me take it off. It was in that moment that I knew our love was forever, nothing could ever make me resist him.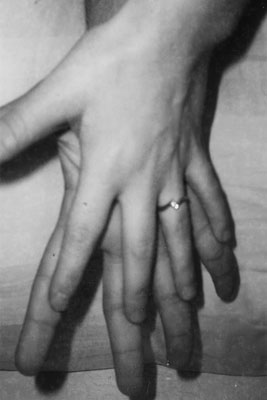 © Heather H., Phoenix, AZ