Monsters Inside Me
February 28, 2019
My feet slap the wet undergrowth, breaking sticks and kicking up piles of damp leaves. I barely feel the branches scratching my face as I run through them. The light is beginning to dwindle, and long shadows are becoming even longer.
My heart is lodged in my throat, my stomach churning with fear. The coppery tang of blood mingled with the scent of sweat and fear pushes me to continue. I'm breathing in gasps, snatching breaths of spicy, pine-scented air as I run.
I hear crashing behind me, I know I'm being followed.
"No, not yet." I think. I knew they'd come for me, however, I don't plan on dying out here. The crashing gets louder and I decide to stop running before I'm overtaken and completely exhausted.
I stop in a small clearing encircled with small trees and dappled with shadows.
A man bursts into the clearing. His eyes are narrowed menacingly, his hand rests on the holster on his hip.
"You're going to have to come with me. We can do this whichever way you want to." He growls. "Backup should be coming soon, so do try anything with me."
"Who are you? Where are you going to take me?" I whimper. The pressure inside my head is beginning to build. Panic. Fear. Anxiety.
"Officer Tuner of the Pineview Police Department. Get on the ground and put your hands behind your back." He approaches me slowly as I obey his orders. "C'mon kid, don't make this harder than it needs to be."
"Where are you taking me?" My voice wavers. The damp leaves I'm laying on send a chill through my body.
"I don't know." He pauses, "I—"
The crackling of a walkie-talkie interrupts him. "Don't approach the suspect. She is dangerous, and should not be pursued alone."
I'm hysterical. I have no idea what they're talking about. "What does it mean, I'm dangerous? I'm not dangerous!" I try to push myself up, off the ground. My heart is like a bird, frantically flapping its broken wings, and trying to fly.
Officer Tuner frowns, "What do you mean you don't remember? Leah…you killed someone. Get back on the ground."
"No, I didn't. You're wrong, I don't remember. What are you talking about?" I stammer. My breath comes in gasps, my chest heaving. My head is spinning, the pressure is building.
"Look at your hands. Where do you think that blood is from? You killed a fourth grader heading to school." He whispers. "You're a monster."
"No, that wasn't me!" I scream.
"It was. We have witnesses and footage proving it. They said you went crazy, they said your eyes glowed with hate, and that you taunted her while you killed her." Officer Turner removes his handcuffs and begins to fasten them around my wrist.
I feel my mind fading and flickering. My thoughts are slowing down, I feel half crazy and almost like I've passed out.
I'm sinking in my own mind, falling down, down, down. Suddenly, I feel like I'm watching someone on tv. I'm powerless to stop any of this. I scream, but my mouth doesn't move. I can't control my arms, my legs. However, something can.
I watch in absolute horror as I tear my hands away, ripping the handcuffs in half. I'm on Officer Turner before he can react. He screams as I bare my teeth and laugh maniacally. I grip the cold steel of a knife in my pocket, and force the blade against his throat.
"Please, don't." He fumbles for his gun, and looks like he might try to throw me off of him.
"I can't stop." I manage to say before I fall into the blackness of my mind. I am a monster.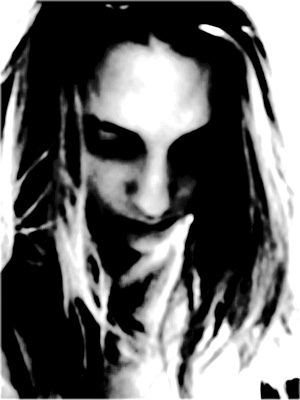 © Maria B., Boston, MA