Home
July 9, 2021
Earth looked so peaceful from above. The azure waters glittered in the sunlight, clouds slowly forming across the surface. Mara could see the countries; huge islands dotted incredibly on a sphere. It was so magical, that people could actually live on that sphere. That blue, green and white sphere called Earth.
She gazed longingly through the glass, wishing for a single day upon that miraculous planet. But she knew she couldn't. She was on a mission, one that could effect the planet she so adored with the consequences.
Mara frowned, and forced herself to look away. She peered around the deserted space around her, devoid of any other human life. Space seemed so lonely.
There wasn't much furniture in the cruiser: there was a narrow, uncomfortable bed, with steel headrests and a grimy pillow; a desk in the corner, with a simple chair sitting next to it like a second thought; a large, overflowing bin trying to hide in a corner; a control panel, with millions of switches and knobs, and bewildering buttons that blinked too much; and something that may have been a wardrobe in the corner, although it was padlocked. Everything was fastened down tightly to the floor. Despite all of this, it was pretty bare. The cruiser was far too spacious for her liking. It seemed like it wanted her to feel even more lonely.
She sat down at the desk, to where a single sheet of blank paper, and an old-fashioned pen lay messily, from where she had left them before. She stared at the blank sheet, wondering once again what to write.
Dear mum and dad,
I'm sorry I had to go. It was for you I went. I hope you don't hate me.
She paused, frowning. Her parents would never hate her. What had she been thinking?
She scrumpled the peice of paper up and chucked it in the bin, from which it fell out almost instantly. The bin was too full - it would need emptying. Mara sighed. She wasn't even on Earth and she still had to do jobs.
She lifted herself from the chair, before pausing to glance at the pen. Home. What had it been like?
She couldn't even remember.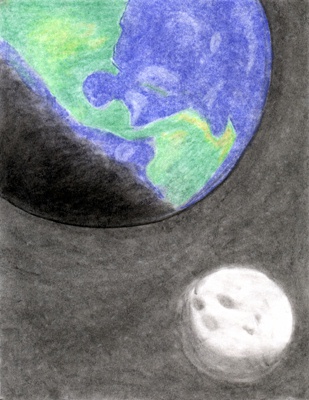 © Bianca C., Phoenix, AZ