Reflection
June 29, 2009
Sometimes, when I stare at the mirror and see my reflection staring back with her expectant eyes, I feel like the girl on the other side is more real than I am. I feel lost…not in a sense where I'm stuck in the middle of nowhere with a toothbrush in hand and a tumbleweed bouncing along in the background, more where I'm not entirely sure that I'm really me.

That lost feeling is stronger now than it has ever been. It's Sunday. The sun shines weakly through my faded green curtains. My room's a mess, not to mention a lost cause; if I try to clean it, I know it'll be twice as messy the next day. I'm checking my outfit in the mirror on my closet door, stuffing my hands in my pant pockets…black vest over a hot pink t-shirt, black pants with a belt that has a silver buckle, and constricting high top Converse. My hair fell in golden waves about my heart shaped face. My acne didn't seem that bad today and my skin looked like cream against my full, blood-red lips. My thick, arching black eyebrows pulled down the corners of my eyes as my lips twitched into a frown. Those eyes blazed back at me, one a murky blue and the other a vibrant green.

I stepped up to the mirror so that I was nose to nose with my reflection. I glared at her. But she did not glare back. She simply stared back at me with calm, patient eyes.

I don't know what I was thinking, but as I stared at my reflection, the light made her seem so real. I felt like she was actually there, and this strong conviction that this girl was real swept through me, tightening my gut and making my heart race.

I raised a hand as she did, and placed it upon the glass. The cool silver met my fingertips, a denial to my outrageous belief. Yet I couldn't help but yearn for the girl to be real. I wanted her to actually exist; I wanted her so badly to be alive.

Those eyes agreed with me, searching my face as I searched hers, trying to force the impossible to be possible. I pressed against the mirror, wanting it to melt away so that this girl could be real.

"Where are you?" I murmured. Her lips moved in synchronization with mine, repeating the question in silence. Her hand, my hand, curled into a fist against the cold glass.

Then she smiled. I had not moved my lips.

'I'll find you. You'll find me. We'll be together soon,' a voice whispered in my head. The girl in the mirror blinked slowly, like an adoring mother gazing at her child. 'I'll find you, Kira. Don't worry.'

I blinked, and my eyes opened to the dim light of another morning. I was in bed, twisted in the sheets, and my alarm had just gone off.

My heart began to weep silent tears. It had all been a dream. Just a dream. Nothing more.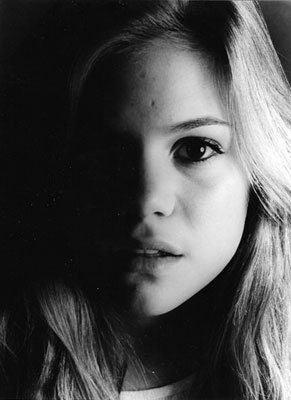 © Michelle M., Plainview, NY