Loving You
October 2, 2009
I took in a deep breath. The air was filled with the smells of fall. I smile, my sharp teeth gleaming against the sun peeking through the trees. A gust of wind rushes by me, the hair on my back bristled. I sniffed again, letting the smells rush towards me; the smell of damp moss, the freshness of the newly hewed wood, and the scent of warm rushing blood moving rapidly in warm flesh. My warm, chocolate brown eyes narrowed into slits, turning pitch black as they did so. My highly trained ears trained in on the sound of a rapidly beating heart. It pounded against the ribcage, wanting to burst. I started moving forwards, towards my destination. The heart's drumming increased in sound and I could hear a faint rustling on the leaves as it moved, but only slightly.
I reached a clearing in the woods, hesitating before I did so. My reddish brown hair sparkled as it moved into the direct position of the sun's rays. My eyes swept around, pausing at a large tree. Its braches stuck out, arms inviting me into a hug. As much as I wanted to do that, I had other plans. The heart fluttered faster; I listened to it for a moment as it sat waiting behind the tree. Slowly, silently I eased up to it. No change in the heart's beating; I knew it didn't know I was there.
The heart moved quickly, running around the clearing. It stopped across from where I sat. I spun around and saw it cowering under another tree. I moved forwards. One foot in front of the other; a feral snarl came out between my bared teeth.
Then, I was looking at the most beautiful pair of eyes I had ever seen. The electric blue eyes widened as they took in my massive body. I leaned back, still not letting my eyes stray from theirs. The boy pushed his streaked blonde hair out of his eyes; his hand was still shaking violently. I finally looked away and glanced at his shirt. The lettering looked familiar and I realized something.
I have that exact same shirt, I thought, remembering the shirt that I wore yesterday.
"You do?" My head shot back up at the boy. He was studying me carefully. I hadn't said anything. I shook my head. He frowned and his shoulder's relaxed. What happened? I burned the thought in my head.
"I don't know what happened," he answered. My eyes, now their usual brown, widened. Can you hear me?
"Yeah." He nodded slowly. I backed away carefully. The boy raised one hand as if to seize an ankle. I let out a whimper and turned around. I sprinted back towards the river ignoring the stinging sensation of the tears in my eyes.
I slowed as the sound of the river lapping at the shore neared. I started pacing back and forth by the river's edge. Suddenly I froze in place. He's back.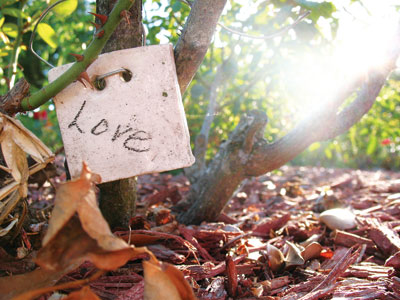 © Danielle L., League City, TX