Forbidden Dreams...
November 6, 2009
Once upon a time I was a princess in my pillow castle surrounded by the stars and greeted by the moon. The stars winked at me, and the moon shed light on me so that even in darkness the world could see my smile. I used to waltz around at night, dancing with the wind and talking with the nightingale. As I grew I had new dreams, I no longer danced alone beneathe the moon. I danced with a faceless boy, his hair was every color, his hieght was taller than I... I knew not his name, but I loved him. Every night he came, and every dawn he vanished. The sun would rise and shine upon his face... I would see his true features for less then a moment... and he was gone. I learned quickly to just enjoy his prescence, however the days were long and lonely for me. On my own.. the sun seemed to mock me, never hastening to bring forth the night.
One day, the sun beat so long, and so hard, I felt as if night would never come; it was even then, only morning. A voice as thick and sweet as honey caressed my ears, and a boy reached out to me, taking my hand. Our fingers touched, and only then did I realize how cold I truly had been... He took me away and danced beneath the suns rays, and I marveled at the beauty of his detailed perfection. He was so real, so true... there was no trace of fabrication.
The days and nights were two lives for me. By day, I learned about my friend, and by night I danced with my shadowy lover. The days led me to grow into who I was, while the nights let me be a child again. This painful reality caused me to awake in tears, and run to my friend, for fear of being alone.
One day, my friend and I walked, and talked of everything, as we ventured along the waterside. I danced along the ledges, and he kept me safe... I felt no lingering sorrow, as I had become so accustomed to. I knew he would not vanish when the sun came out, nor when the moon rose. We watched the sun fall, and I layed my eyes on him. The suns colors ran through his hair, and his eyes reflected something framiliar... I layed my head on his shoulder, and felt home. As he held me, the wind blew me worries away, and with one forceful gust, half of my heart was blown into his hands. My eyes were closed to a peaceful sleep for the first time in my life.. and when I awoke, I awoke with fright. The sun blinded me, and I felt the overwhelming desparation of being alone once again. When I turned and saw him smiling at me, I breathed, and from that instance on, i knew I was never alone.
As the years passed, i grew, and I became to old for my pillow castle in the sky, surrounded by my stars and the moon. I lived in the day, and slept in the night. but all good things must come to an end...
While dreaming one night, next to my husband, my friend, my lover, I saw that shadow again. His hair was every color, his hieght was taller than I... He had grown, but was so unchanged. He looked at me with his shady eyes... and I saw a tear fall from his face. He walked out of the shadows, and kissed my lips ever so softly. He cried one more tear for me, and turned towards the sun. He opened his arms, and sighed, "How I've missed the Sun" as I watched the sun durn him into star dust. A wind came and blew him up and into the skies. He watches over me now... To be sure that I am never left alone at night... Reality can overcome childhood... but the child within me will never forget my forbidden dreams...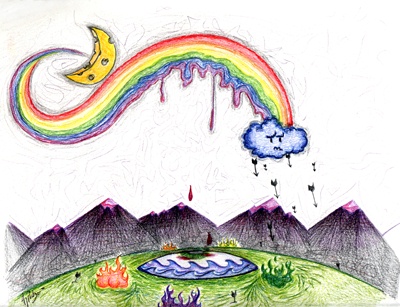 © Alexa P., Ridgeway, PA